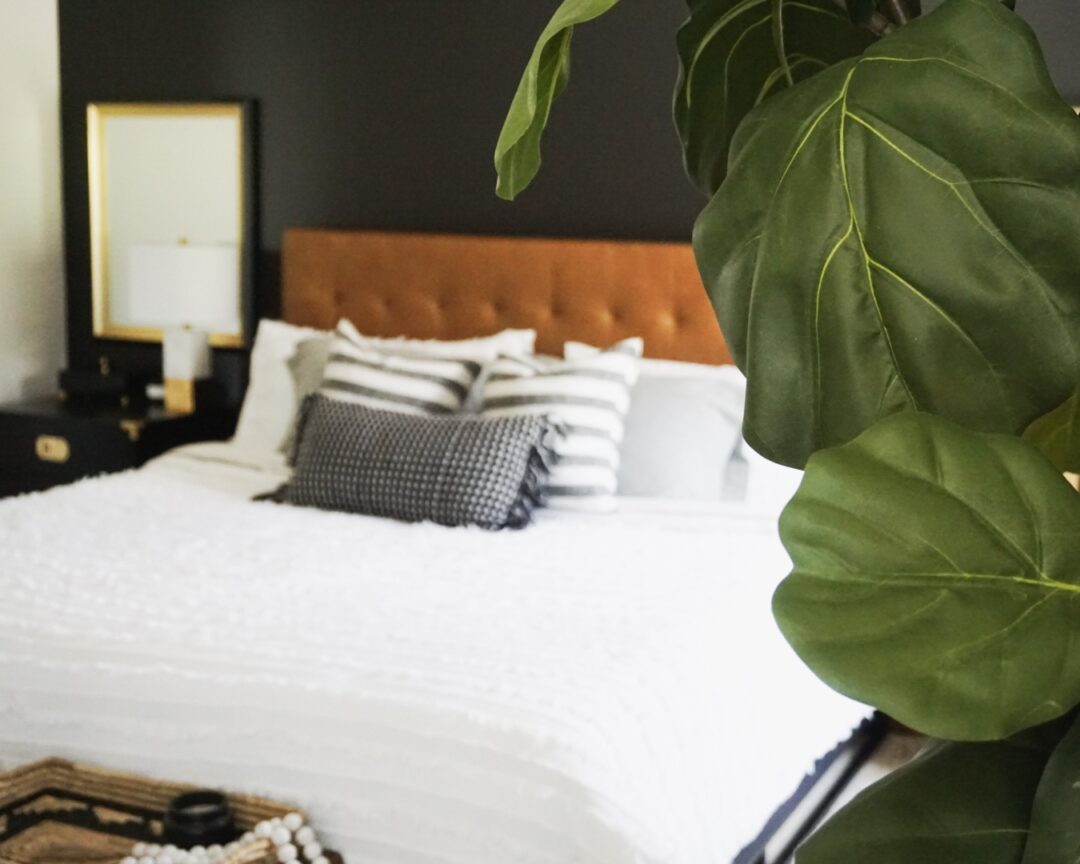 MASTER REVEAL // ONE ROOM CHALLENGE
AH!! I'm so excited to share with you our MASTER BEDROOM REVEAL! This has somehow been the shortest and longest six weeks of my life. I have been DYING of anticipation to share the space since I finished it about a week ago, but getting there within the time frame was ROUGH.
Anyone who knows me knows that I am the worlds biggest procrastinator… its something that I really really wish that I could change about myself, but if I'm being honest, I probably never will! I've always been the type of person who does their best work when they are on the clock, and I prioritize my life a bit differently than others traditionally would. I'll tell you, this challenge was no different 🙄
Like I had mentioned in my previous posts, I used to have a beautiful black four poster bed that totally begged me to do something farm house chic with it! I decided that the best time to upgrade to a king (because it was inevitable that we would eventually make the switch) would be to do it now while I was designing the room from scratch. Once I started looking at new beds, it totally opened up a whole new realm of possibilities design-wise. I was stuck in a bit of a design rut before, but I ended up knowing almost instantly what vibe I was going for once I had a clean slate!
However, sourcing my dream room on a reasonable budget was a CHALLENGE. I fell in love with all things Serena & Lilly, RH & William Sonoma, and it was clear I needed to get creative if I didn't want to also give up a kitchen renovation in the nearish future 🙄
So I decided to start with a headboard, and let the rest fall into place around that statement piece. If you've read my previous post, you know that I went for a mid-century modern vibe overall, so I was considering two options – either a mcm walnut platform bed with a rich colored wood, or a large leather headboard with a simple low platform frame. I did consider one other options briefly, which was this beautiful split cane headboard in a light wood, but quickly ruled it out because of the durability factor. I was worried that it would quickly wear down and I really wanted this to last us a while. (but it sure would have looked pretty on that black wall!)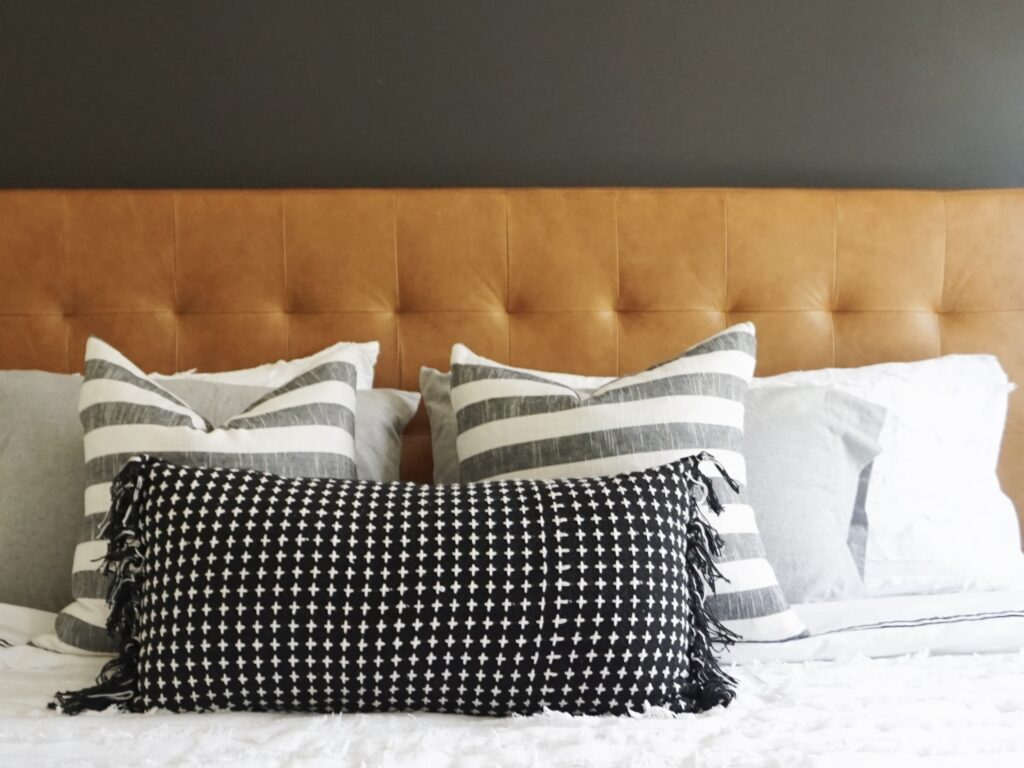 I ultimately chose this leather headboard (all links will be below) for two reasons. One was that we got a sleep number bed, and I was having a difficult time finding a full base/headboard combo that would accommodate while still keeping my bed lower to the ground. Secondly, I really wanted this to be the statement piece, so nothing better than a rich leather tufted headboard to do just that!
After I chose the headboard, I knew I had to paint the wall black to make that headboard pop. (This is no surprise to anyone who follows me as my house is all black and white). I also knew that the Persian rug I had that my mom graciously gave me would work PERFECTLY with the color pallet I was putting into play.
HOWEVER, this was the exact moment when I spiraled into analysis paralysis. I got completely stuck on the nightstands, couldn't bare to spend $400 on mirrors, and couldn't find the bench I had invented in my head if my life depended on it! (YIKES) I pretty much paused for a literal 2 full weeks because I just couldn't find anything I loved or make anything work.
The nightstands tripped me up HARD. I fell in love with ones from William Sonoma, then I found alternates on Wayfair. Then I decided I wanted them black, not white – no, wood… no, definitely black. Then the new set I found I realized was 5 inches shorter than my ideal height, making them shorter than the top of the mattress.
This might not bother some, but to someone like me, it's something that could drive me off of a cliff if I stare at it too long. I ultimately decided to saddle up, buy the damn nightstands and order some matching brass feet on etsy and hope/pray to the design gods that the bottom wasn't some cheap particle board that wouldn't hold said feet.
Luckily it all worked out, and as you can see they turned out GORGEOUS. The feet totally make it and I'm happy to report it's the perfect height!
Everything else just fell into place afterwards! I wanted to add some fun textures to the space, so I did this through these tassel curtains, textiles, pillows and accessories – a lot of which I found at my local Home Goods, TJ Maxx and Marshalls – but I'll link similar finds below! I also decided on a nice wooden bench with a cubby that I could style & large faux fiddle-leaf fig tree (because lord knows I'm barely keeping my one downstairs alive). I finished it all off with some artwork, old books, beautiful carrara and brass lamps, and mirrors above the night stands!
I am SO incredibly pleased with the way that it turned out! I just want to constantly be in our bedroom, which is a great feeling because in all of my previous apartments and houses, its the one room I ALWAYS neglect, but spend so much time in!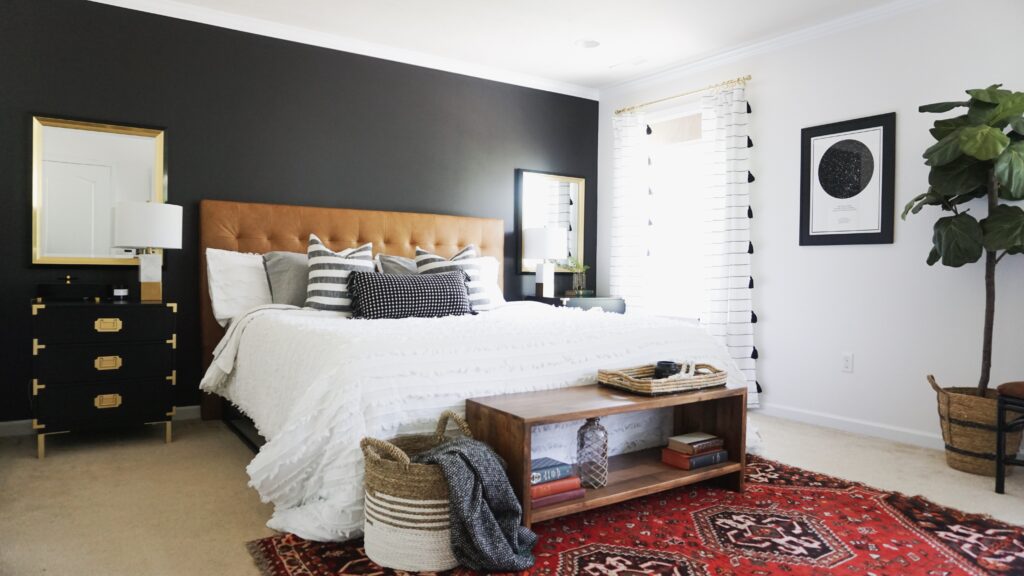 I've linked up some alternatives to the decor shown in this reveal! Comment below and let me know what you think of the space! I can't wait to hear your thoughts!
Be sure to check out the other featured and guest designer's spaces on the One Room Challenge website!