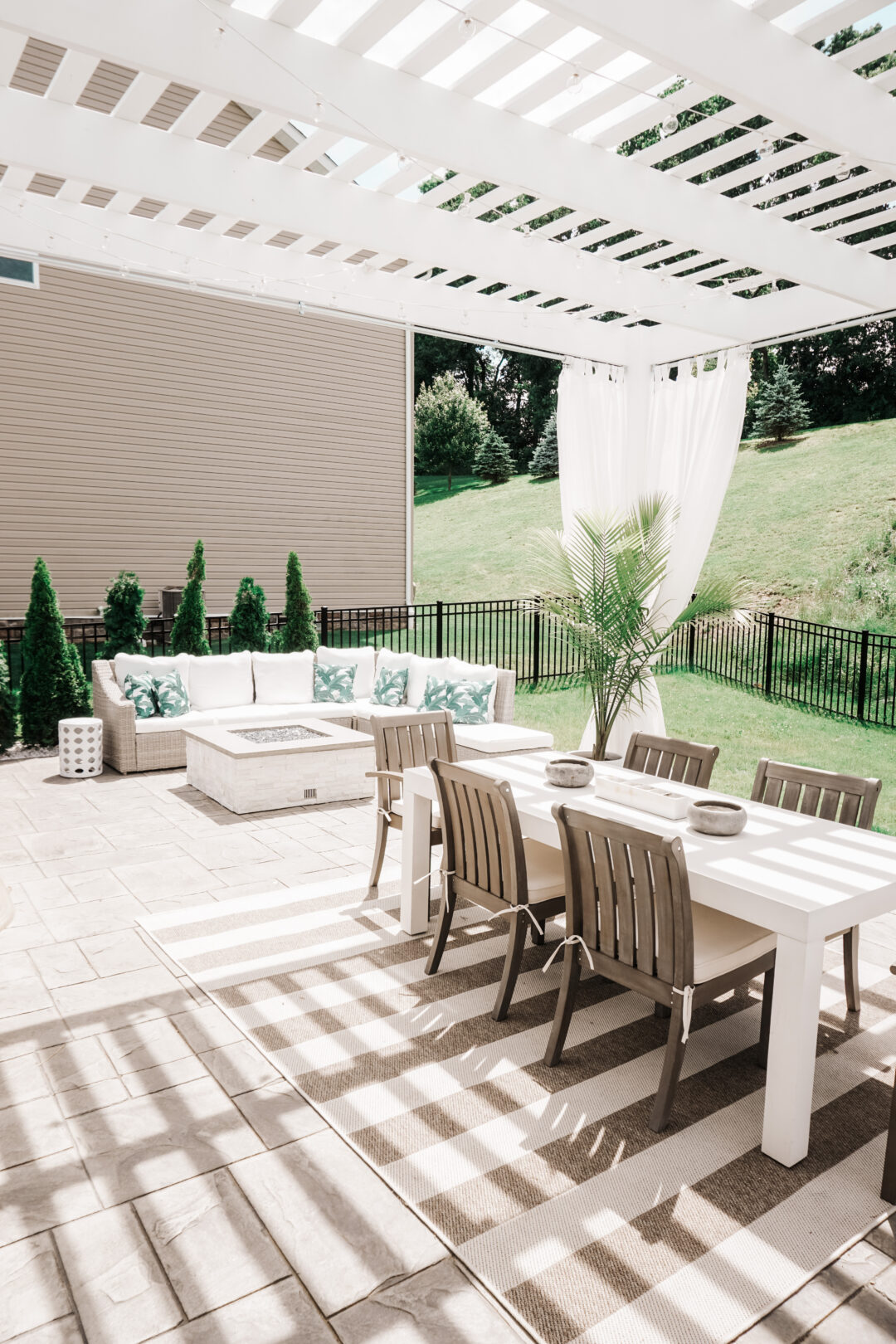 HOME // CREATING A BACKYARD BUNGALOW WITH WAYFAIR
It's almost that time of the year, guys! Get excited! We've all been cooped up for FAR too long, so once the weather turns, you're going to want to get outside! I'm here to help you make a living area out of your outdoor space, so even if we're staying in this summer, you have an oasis to call your own!
I've partnered with Wayfair to recreate my little Backyard Bungalow for far less! Outdoor furniture can be EXPENSIVE, and while most of these items are definitely still a bit of an investment, it's one worth considering to give yourself a little slice of paradise at home this spring and summer (all things considered)!
I never officially "revealed" this space last year – I'll save all of those details for another post. We're truly here to learn how to recreate this on a slightly better budget, so let's get into those details, shall we?
Everything will be linked in the caption under each image and throughout the post.
Let's start with my FAVORITE part of our outdoor space – the fire pit. This thing gets SO much use from spring to fall and is always the center of every gathering and party we have out here. We love all the star gazing, s'mores making and conversation promoting this little feature has brought us over the years. While ours is a permanent fixture with a gas line running to it, I found a modern option that uses propane, great for decks or rentals!
You'll also need plenty of seating to go around, so I suggest a sectional to seat more of your guest, or in our case, to have two spots to comfortably fall asleep by the fire 😅I personally don't love most of the woven plastic outdoor sectionals out there, but I found one that was a THIRD of the price of ours and accomplishes a super similar look! While most people shy away from white cushions, let me convince you otherwise… When we initially tore up our yard, it was a nightmare with the mud. However, I was able to throw them in the wash with bleach, something I couldn't have done with any other color. Since then, I've sprayed them with Scotch Guard and the water and doggy paws wipe off effortlessly! Once or twice a season I'll bleach them and repeat the process, but it's well worth the effort!
Polish off your corner with a ceramic end table and some accent pillows, and voila, you've got yourself a little slice of paradise to use almost all year round!
Next let's hop over to dining. I always suggest an outdoor rug to make your backyard bungalow feel like another living area. If you get a portable fire pit, you can even use it in your fire pit seating area – which is totally one advantage to not having a permanent fixture anyhow! This grey and white stripe rug is almost identical to ours, and will pull your whole color scheme together.
I also curated two dining table options, depending on your budget and preference.
The first, is an all grey wood dining set. It look's very similar to the chairs I have sitting around my table, but with the matching table if you prefer a full set. This seats 4, but you can easily add a pair of accent head chairs if you prefer!
The other option is a white dining table with grey chairs, similar to our dining set up. I liked the white to keep the outdoor area bright, and further reinforce the grey and white theme. This one would allow you the flexibility to get fun with your chairs, but I've linked chairs most similar to what we have here.
No patio is complete without globe lights! It's crazy how much they can transform a space from basic to whimsical. I've linked the ones we use here. If you don't have anything to hang them from, consider pinteresting some unique planter posts you can create, or I've linked a pergola for you to consider. This is certainly an investment piece, but I always want to give you options to consider!
Finish your entire look with some palms from your local hardware store (they usually run about $30 a piece), some lemonade and some freshly roasted marshmallows and you've got yourself a Pinterest worthy backyard bungalow that you'll never want to leave!
I hope you enjoyed re-imagining your backyard space with me! While this post is sponsored by Wayfair, all of the opinions and ideas in this post are my own.
Happy Shopping!