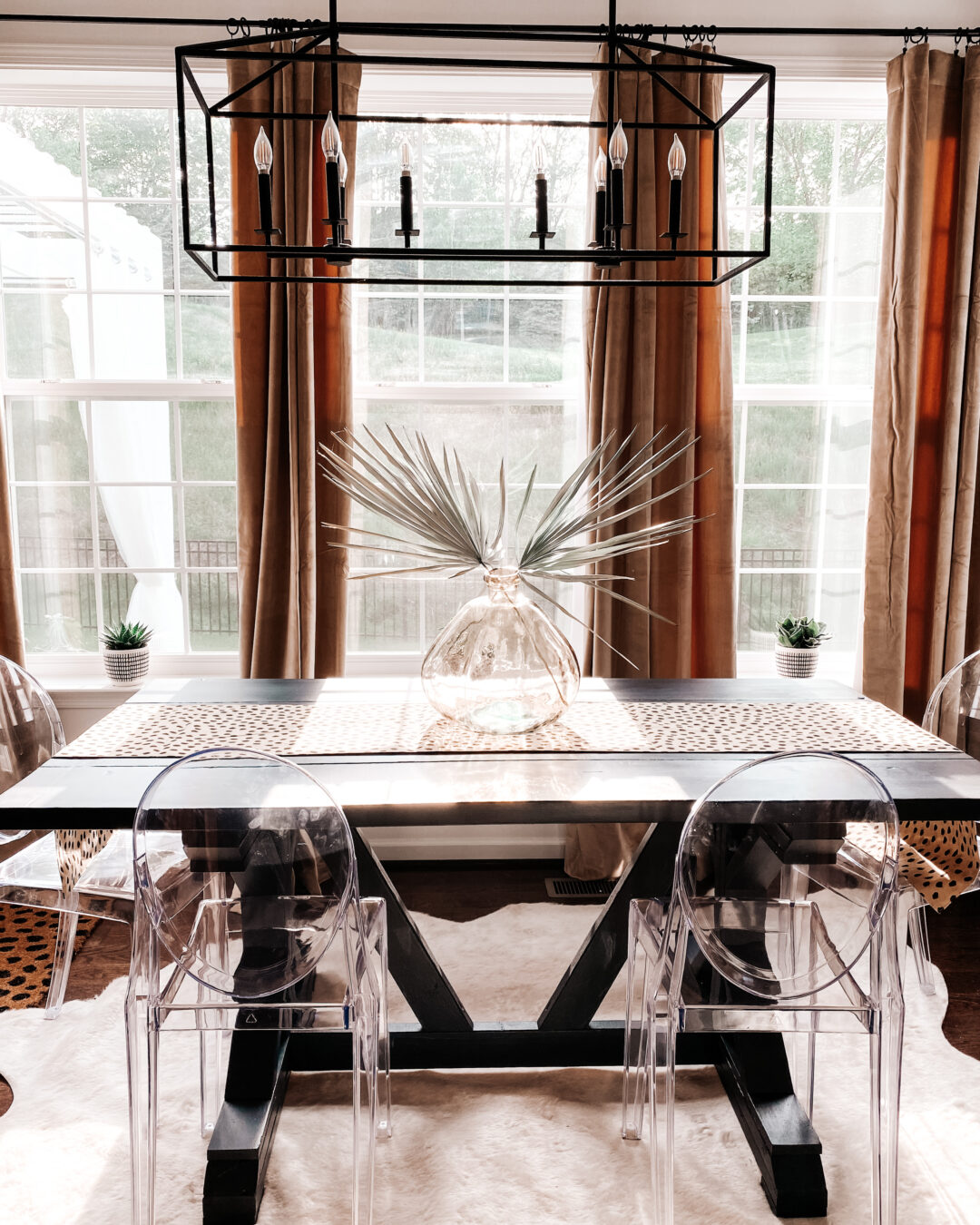 HOME // DINING ROOM UPDATE
I'm so happy to finally have a little reveal of this space for you guys! If you're new here, I'll quickly break down where I started and how this space came to be!
This dining area has perplexed me since the day we moved in. The lighting fixture was centered for a round table, but was too far forward for the rectangular table I much preferred. When I finally found a light fixture we liked, my dad and I ended up moving it about a foot and a half back to save some precious space in our kitchen.
The table was the first purchase we made for our home, right when we moved in. It was at the height of the Magnolia craze, and though I do love a good modern farmhouse, it's not true to my style, and it quickly became the piece that caused me grief ever since!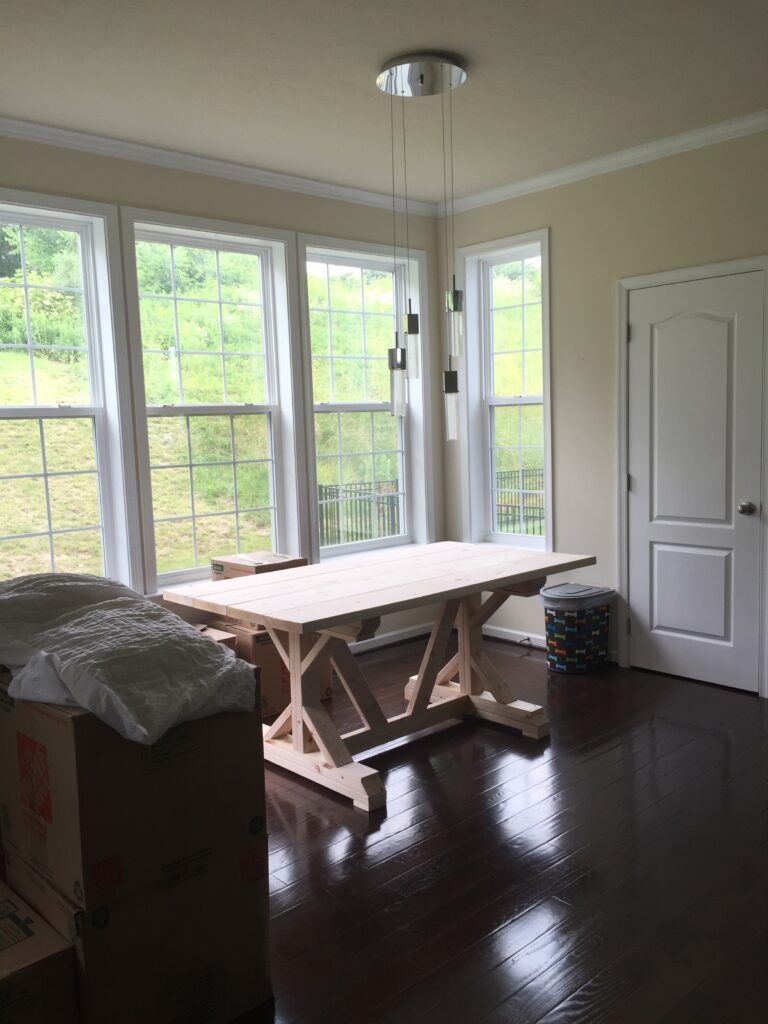 We've tried a more modern set of window pane printed curtains which I made. Initially I loved them for about 6 months, but then grew tired of the busy pattern after some time. The print modernized the space a bit more, but it was busy with the lines of the lighting fixture we had hanging in front of them.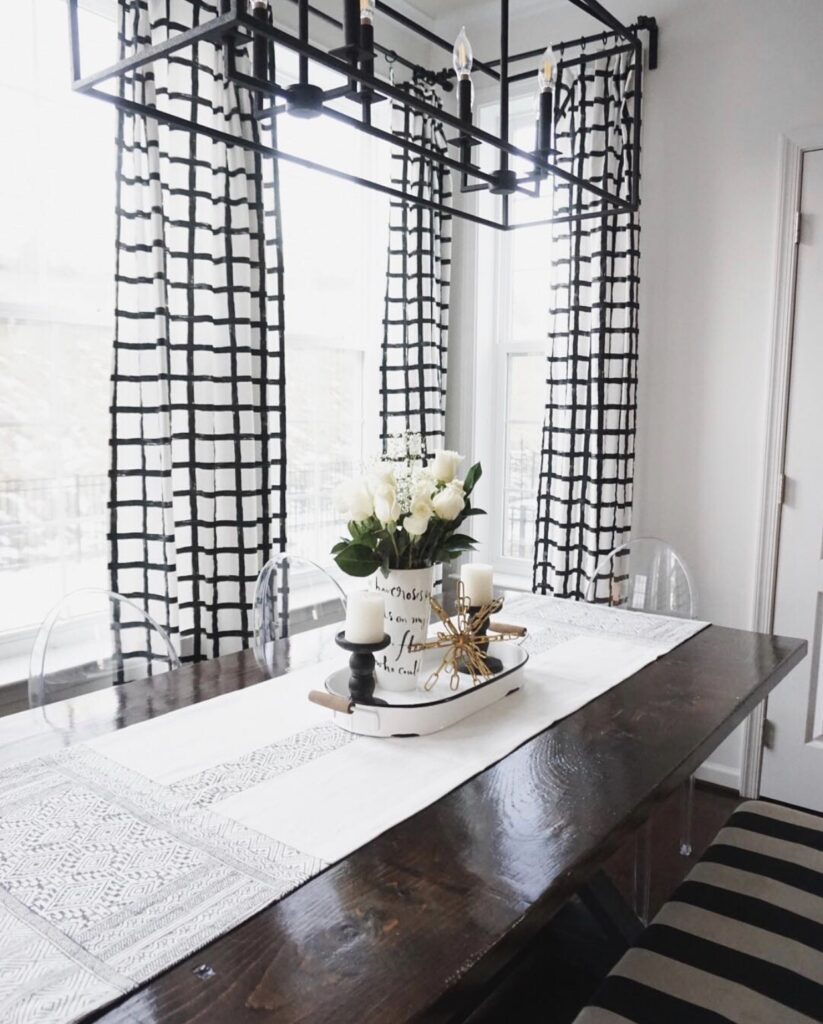 Over Christmas, I decided to give this little corner a go, and update it with some rich green velvet curtains. This went with all of the other green velvet we had in our living room, and it truly was a great look for the winter months.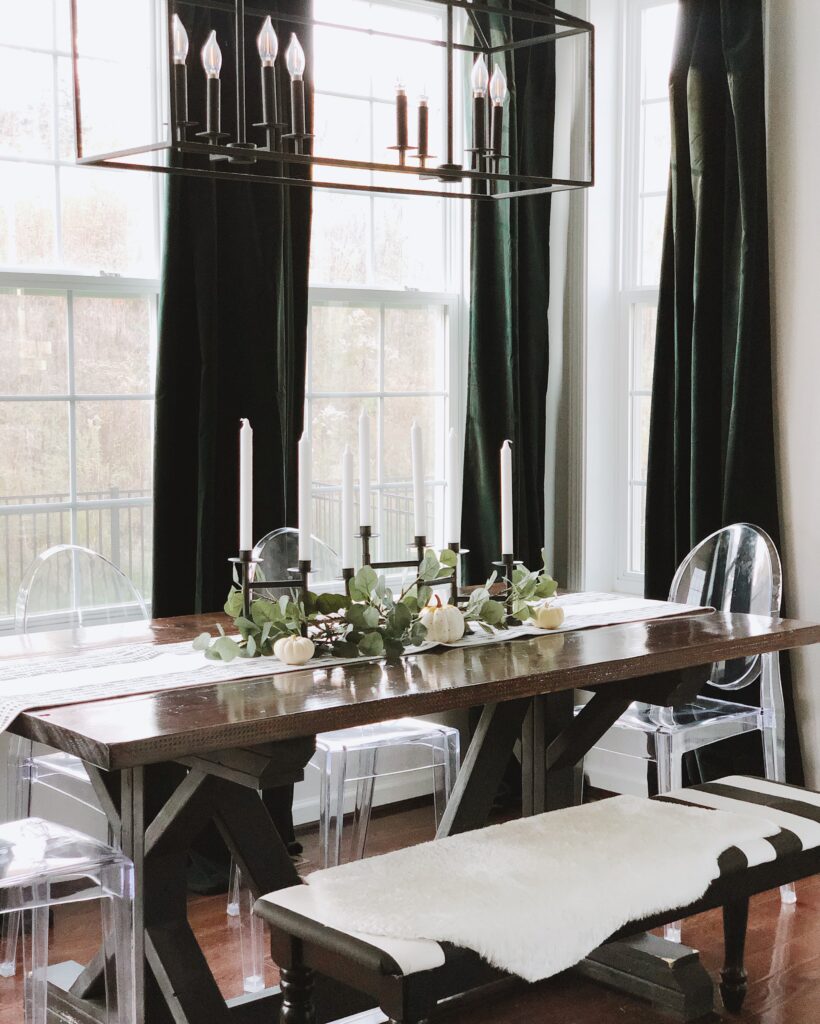 This spring, I started to think about this space again. I hated that the size and vent placement made rugs a tricky buy, but I still felt like the table top blended into the floor and I needed something to break it up. I started to really dislike this table, and I felt like it was the one decor item I couldn't make peace with in our home. I also knew I wanted a lighter curtain moving into spring, but I felt like the window pane print was officially retired for this area.
I started looking for new tables. Something black and timeless, but I realized that everything I really loved was too large and pretty pricey. Since our dining nook is small I knew the likelihood of using this size table was slim in our next home, as a larger dining area for entertaining will be high on the wish list. So, I ultimately decided to try out refinishing our table to see if I could love it again!
A lot of elbow grease and a week later, I'm super happy with the results. Once I saw it in place, I knew I had to find a rug to break it up. Because of the size of the area and vent placement, I knew I had to find something a bit more organic, that would allow open space where the vent falls. This little faux cowhide rug did just the trick. I still don't know if I LOVE this specific one… I might use it somewhere else and purchase one that has a lower pile and a more obvious tan print, like this, but I'm happy with the look overall.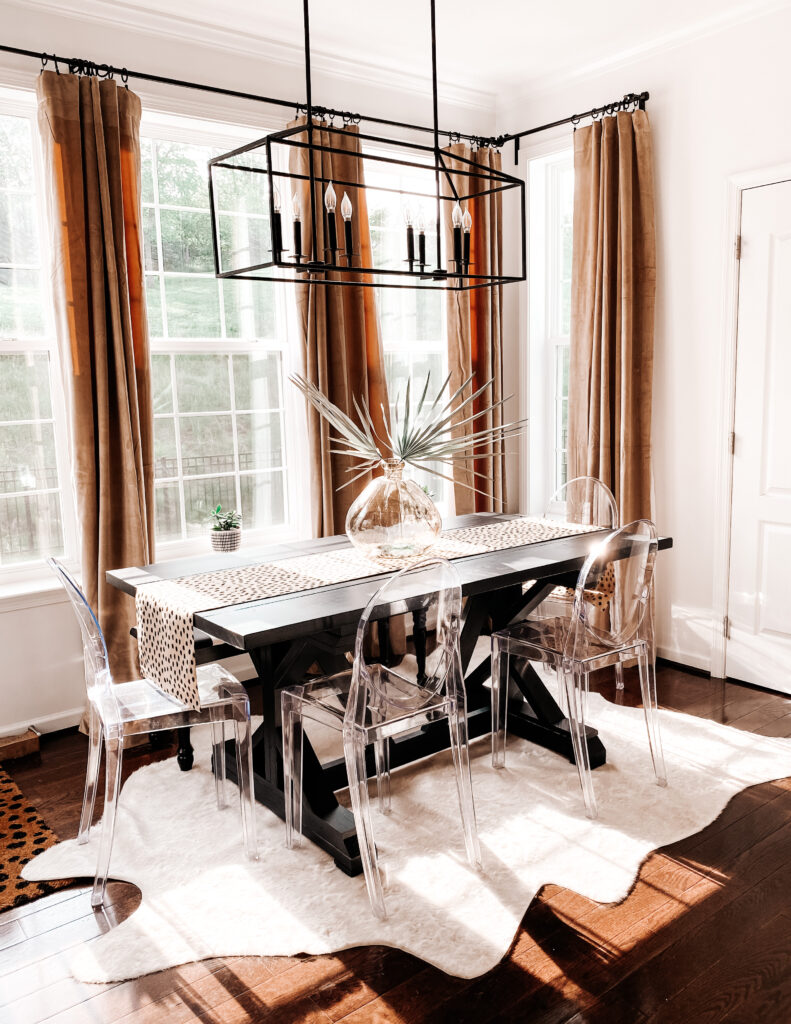 The most impactful change are the curtains. They are the most perfect tan velvet that match our other window treatments. I can't believe how perfectly they match the color of our roman shades, and it just brought the entire first floor together!
I think I'm finally content enough with the space to reveal it to you all, which is saying a lot, because you know it takes me a while to get some of my home projects up to the blog. 😉
How do you think this space turned out? Do you like the black table, or miss the more natural finish? Comment below and let me know!