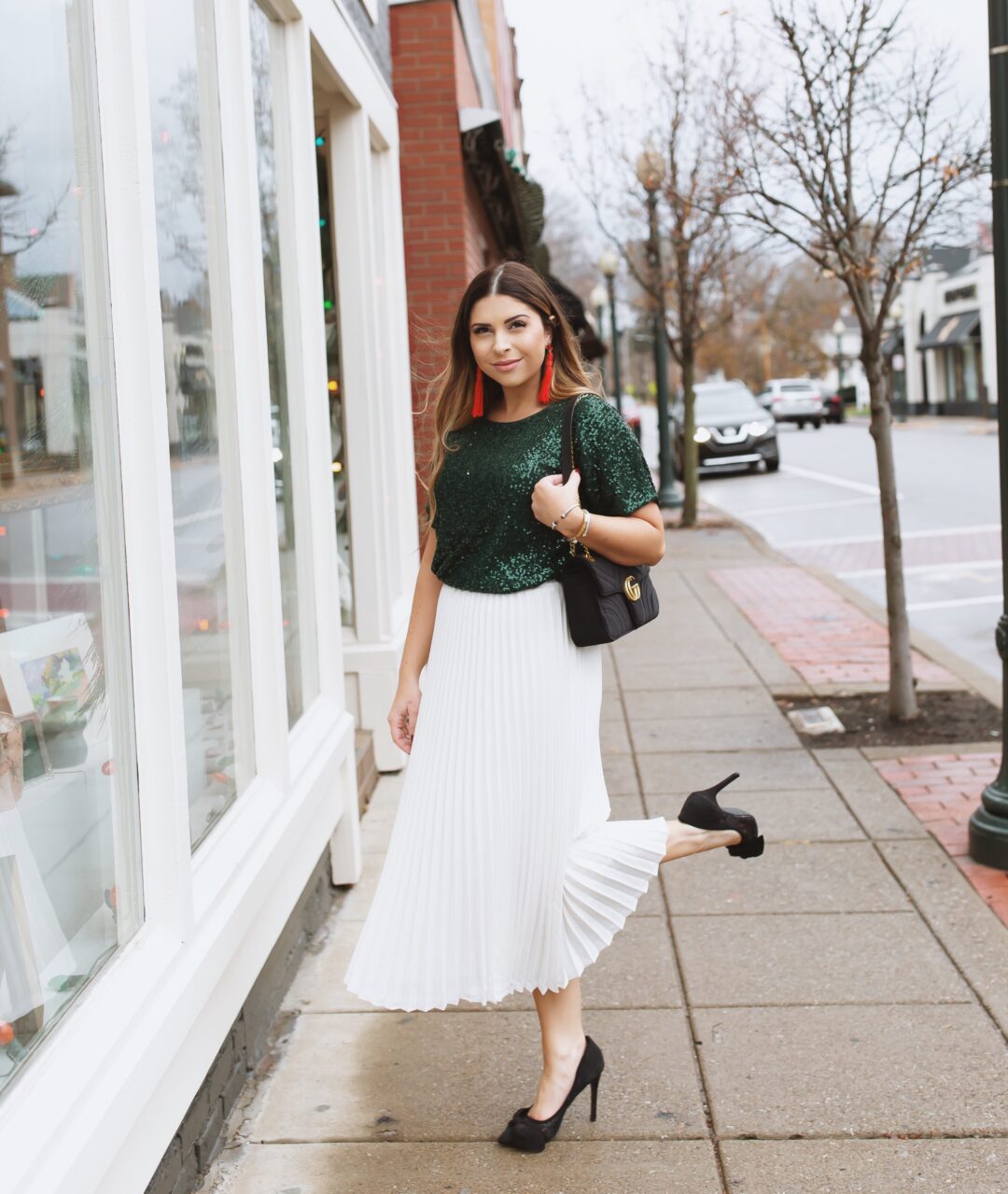 FASHION // FAVORITE LOOKS THIS HOLIDAY SEASON
I can't believe we are less than 2 weeks away from Christmas! I planned on getting this out a little earlier but the winter is my busy season at work and everything starting the week before Thanksgiving just flies by!
I've gathered a few of my favorite holiday looks for you guys, whether you're looking for new years glam, holiday traditional, or a comfier option, everyone should be covered here!
As always, thank you in advanced for shopping my links – it means the world to me!
First up lets talk CHRISTMAS! I have two faves when it comes to a good old traditional Christmas outfit!
First, is this super cozy red cable knit sweater, paired with one of my most versatile accordion skirts! This is a great dressy day time outfit that will keep you pretty warm, but still a bit nicer than denim or pants!
SIDE NOTE: I have SEVEN accordion skirts, and the obsession doesn't seem to be slowing down anytime soon… The white and black versions are by far my most worn skirts year around. I just LOVE how they transition easily from summer to winter!
I paired this look with some black shoes (which unfortunately are no longer available, but I will link a similar pair) and a black velvet handbag (which I will also link more affordable options for you here, too).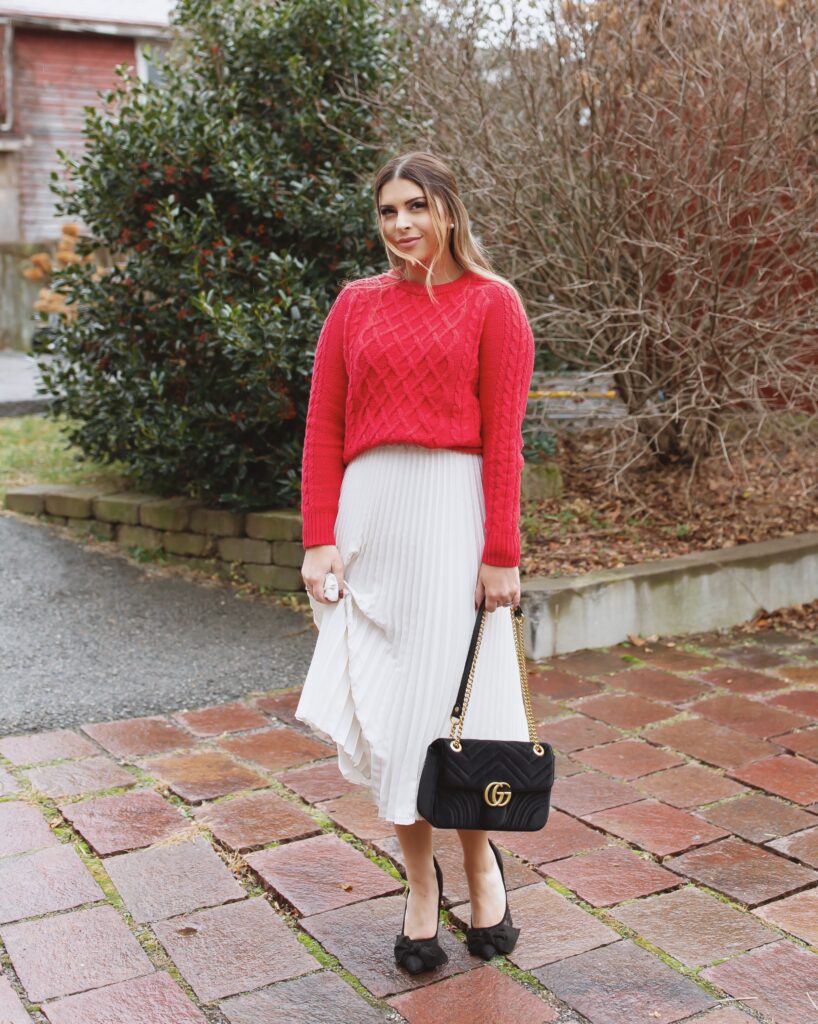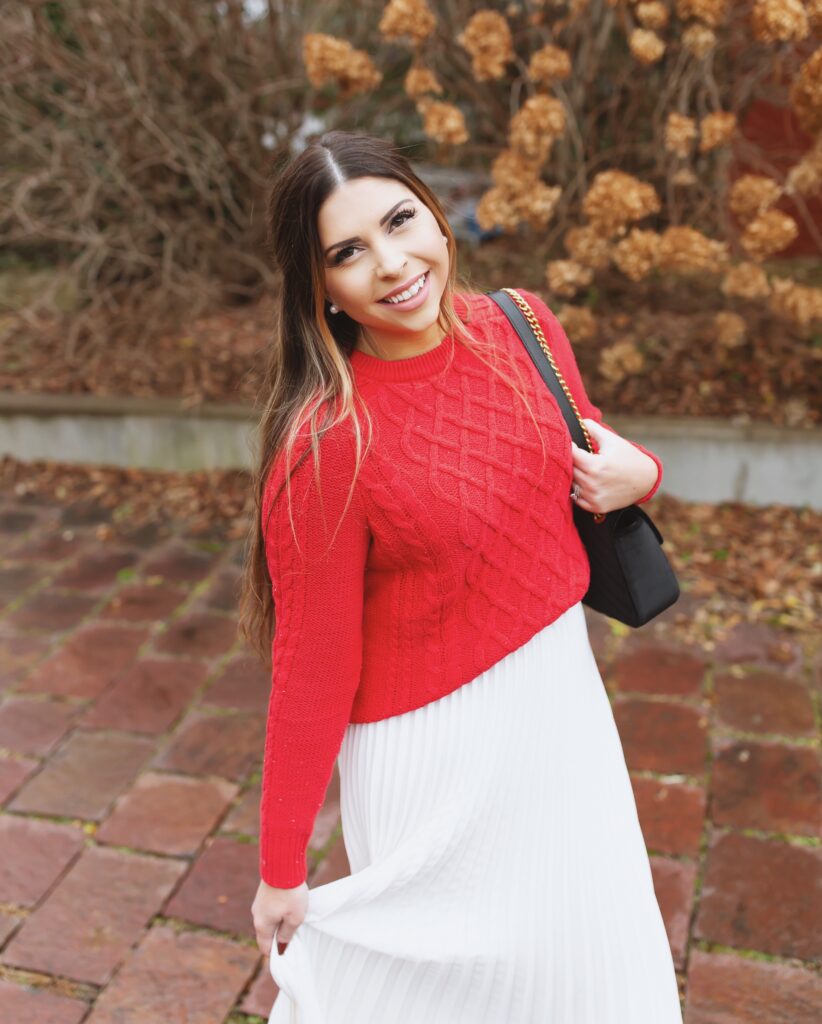 Next up, I'm still using my favorite skirt, but this time i've paired it with a very Christmas-glam top! This is perfect for a night time look if you have a Christmas eve party to go to, or a fancy Christmas day dinner! We typically dress up for Christmas Eve dinner and drinks, so this is most likely going to be my go-to outfit for that night!
I've paired this with a cute pair of red statement earrings, (btw these are only THREE dollars) which at any other time of the year would just be over the top for me, but for Christmas?! It's perfect!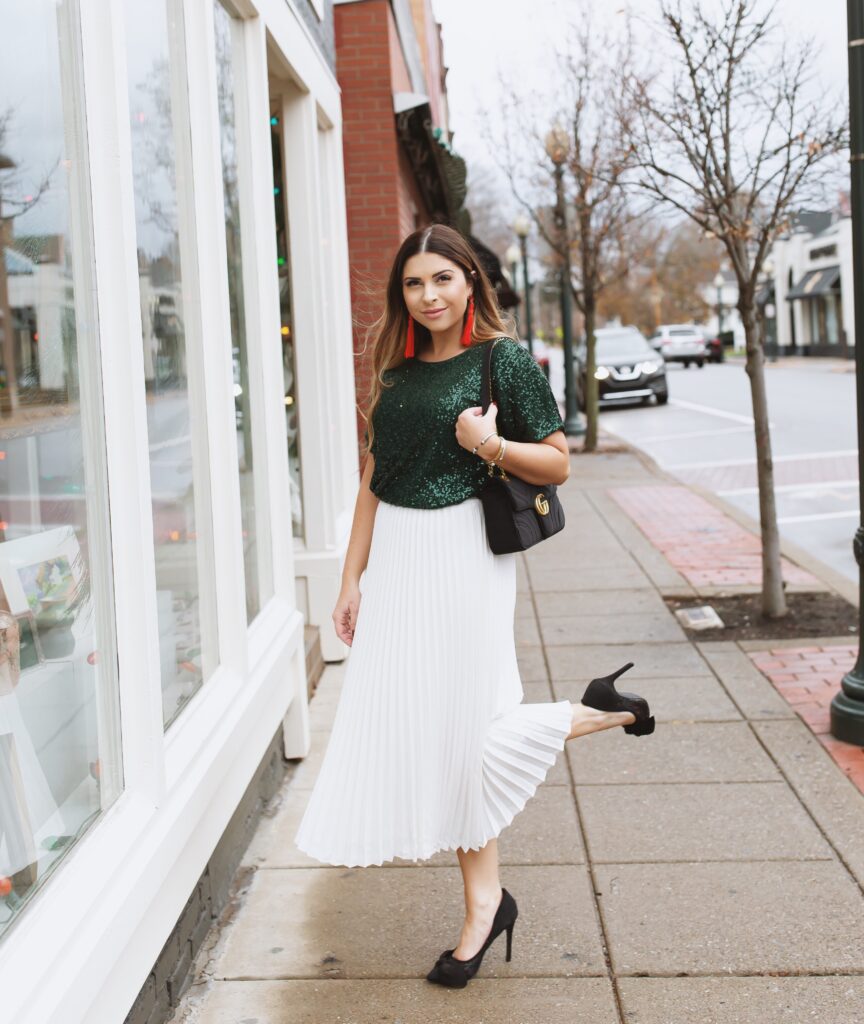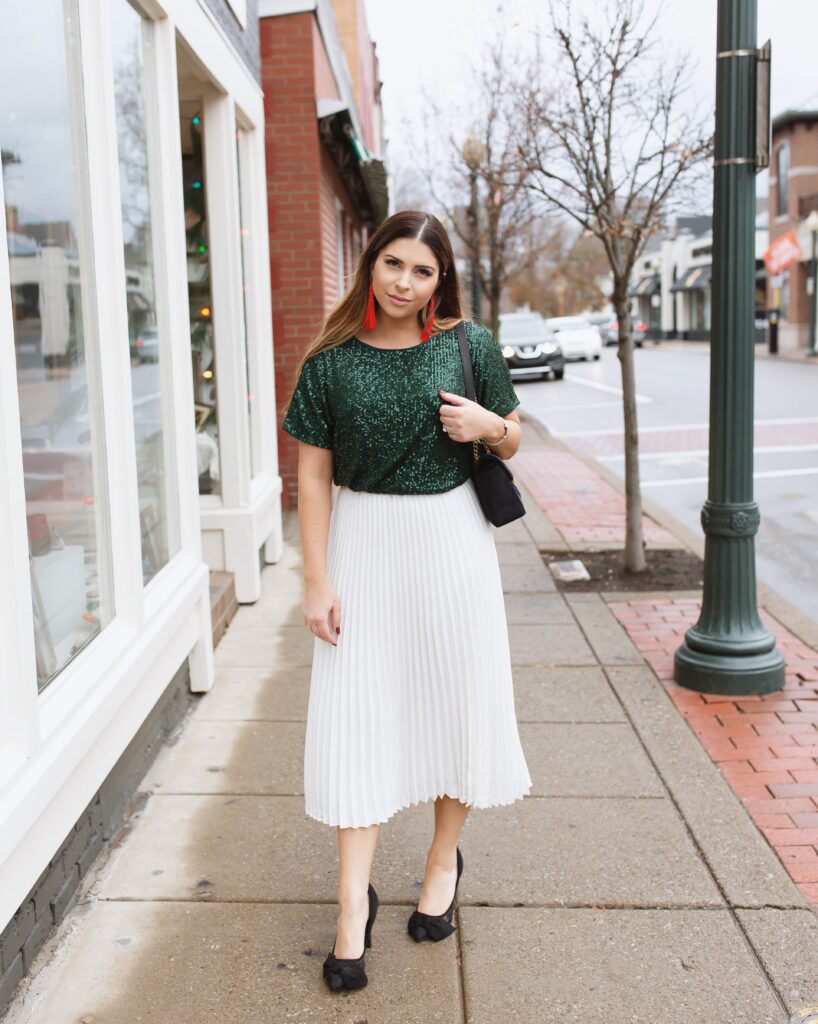 Third, lets talk about that holiday party you need to go to between December and January, where you're not sure of the dress code, and don't feel particularly festive… I found the BEST velvet leggings that pair so well with this long-line velvet kimono! It feels so chic, yet its so comfortable – especially if you opt to pair these with a pointed toe flat!
These leggings are super high-waisted, but very flattering! Not see through and thick enough that you can feel comfortable showing the front, as long as the butt is covered!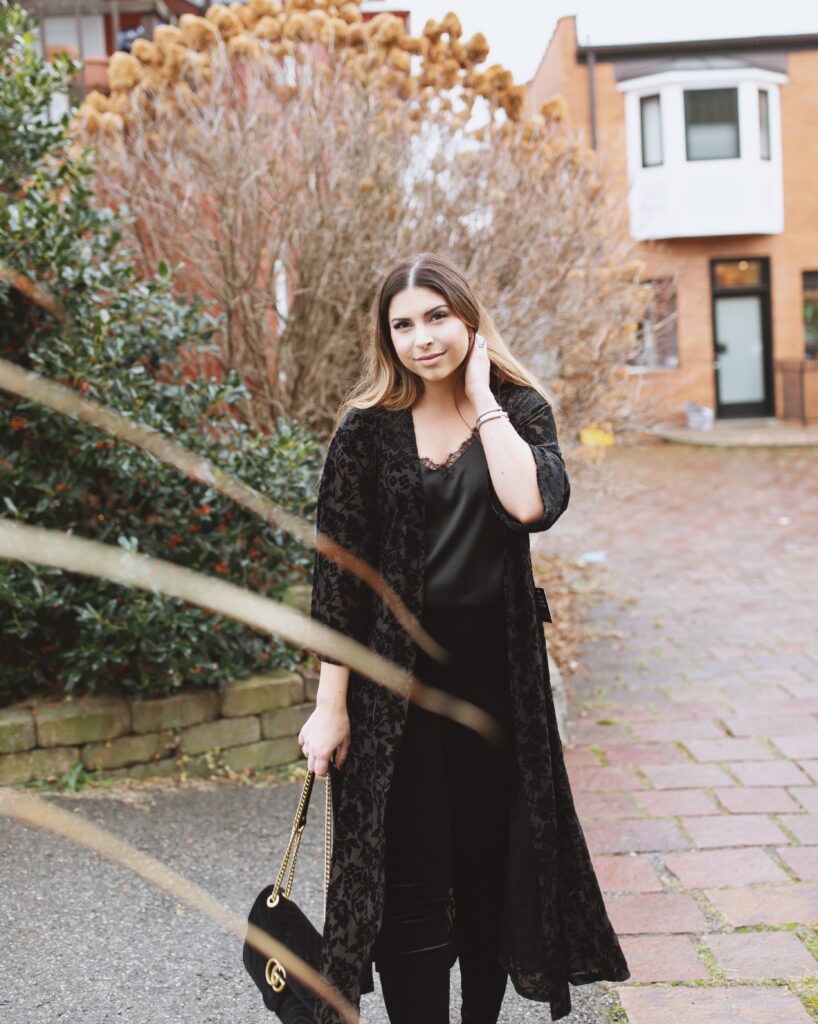 And last… New Years Eve!
I just love this babydoll dress… It would be a great option for those expecting mamas because its super roomy! It's also great if you want to wear a dress and don't feel like sucking in all night (ME!). This can totally be worn for a holiday party, or any party really, and its definitely not specific to just winter!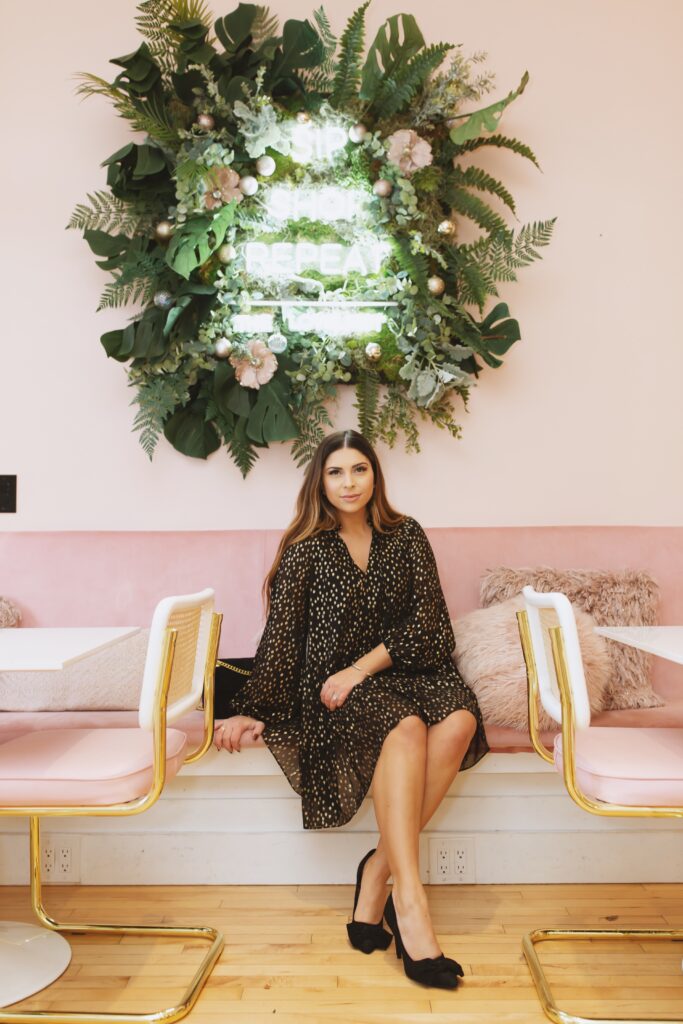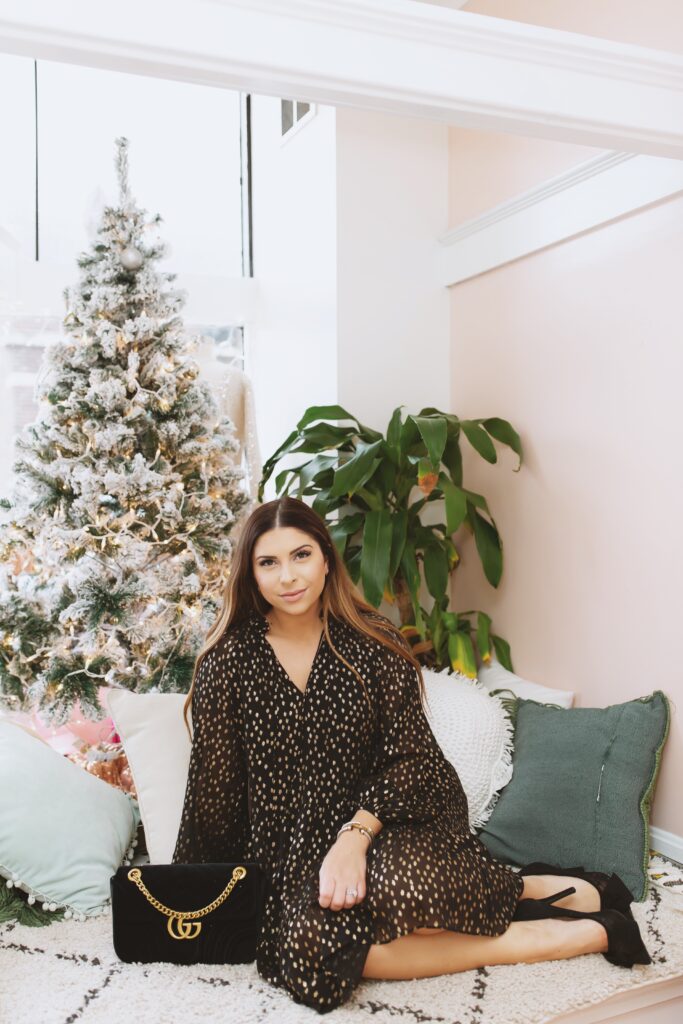 SPOILER ALERT: this last one is a sneak peek at what I wore for my Christmas card photos this year! Its far too dressy for any Christmas function for me this year, but it's PERFECT for a nice New Years Eve dinner or party!
It was so affordable compared to other alternatives, and because of the ruching, it's very flattering! It's a bit low cut for my taste (at least for holiday photos) so I did pin mine, but not so low that I would feel uncomfortable going out in it. However if you are larger chested, you may want to consider pinning!
I paired this with my FAVORITE pair of tights, but I will also link another textured pair that will give you the same look for less! I also can't forget this amazing faux fur coat, which I love wearing casual as a very "macklemore" vibe, but it also works so well for a dressier occasion. It runs super large, so I am wearing an XS in this photo!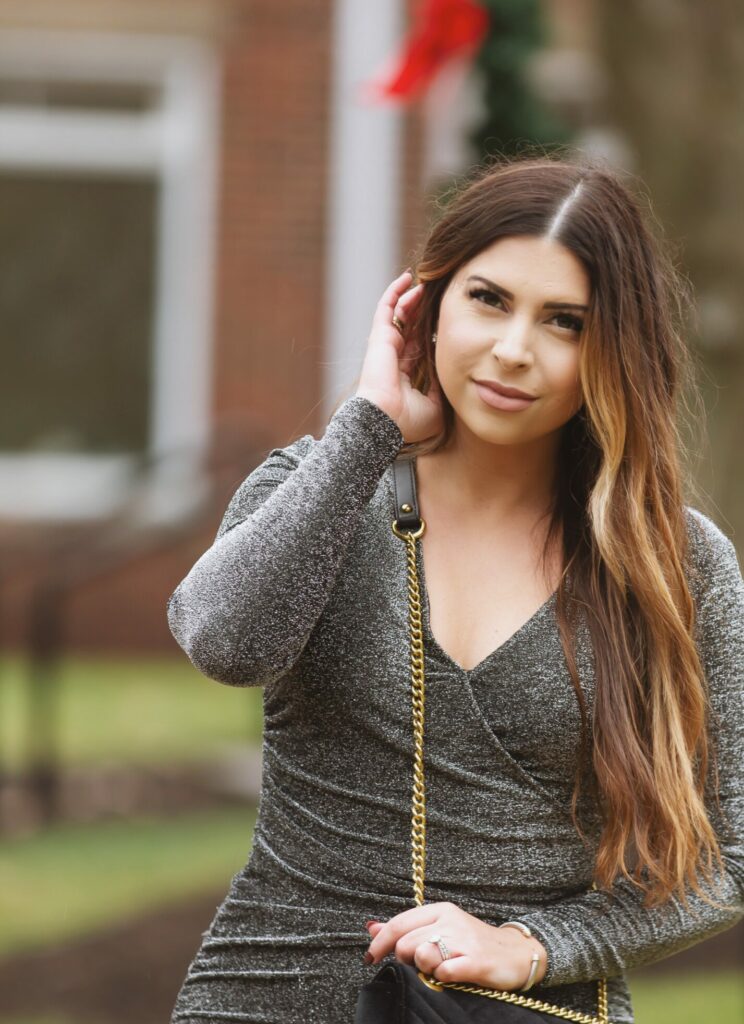 I hope you guys have fun dressing for your holiday parties! While these are some of my favorite looks, there a so many different ways to achieve a fun holiday vibe with items in your closet! Many times, I just will add one thing and get creative with what I already have!
Happy Shopping!