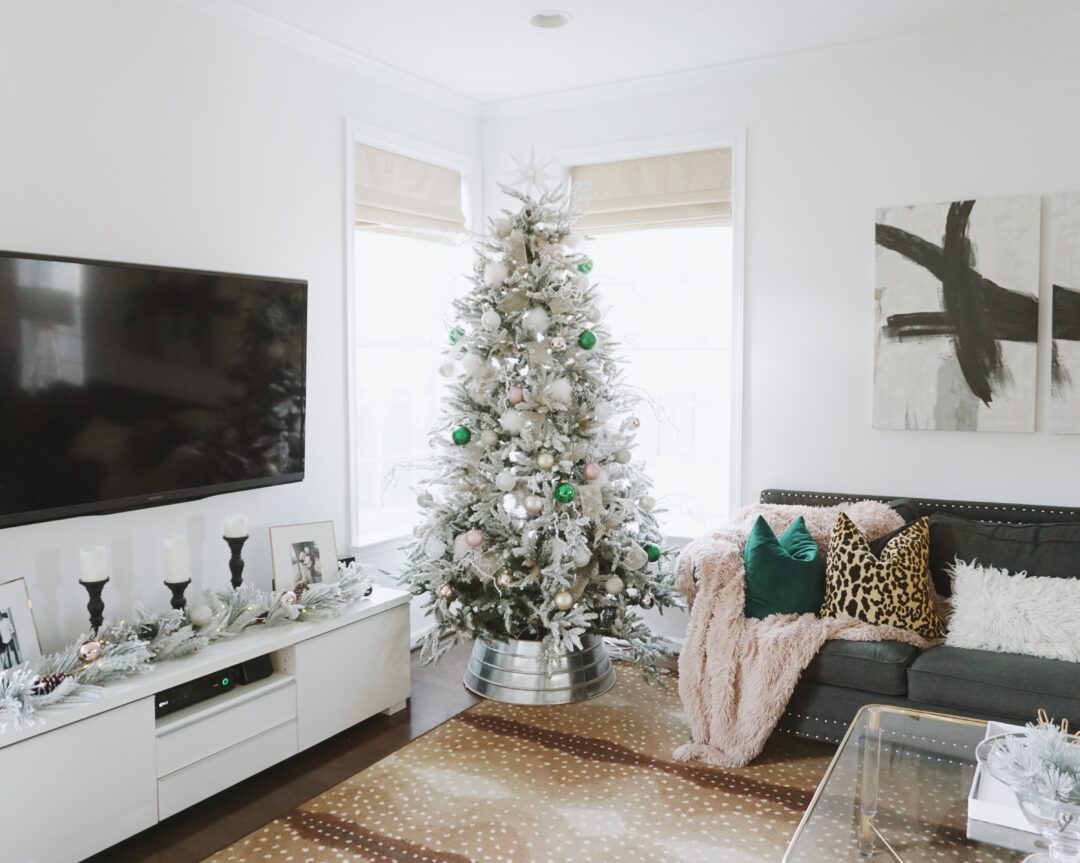 HOME // A WHIMSICAL CHRISTMAS TREE
Happy Sunday everyone!
I decided to switch it up this year and create a whimsical Christmas tree! Last year I had played up the black a bit more and had incorporated some black bulbs in my tree! When I put them in this year, something just felt off, and I got inspired to swap the black out for some blush tones! I'm SO happy I did.
Everything used for this tree is on SUPER SALE right now, so even if you are thinking of doing a fresh look for next year, now is the time to scoop it up! I'll link all of the sources from my tree at the bottom of this post.
First things first – I could not have achieved this look without a flocked tree. While I love the look of a green tree, real or artificial, our main living areas are much too modern for one! We have a green tree in our basement, which airs on the side of farmhouse style-wise, and this tree has all of our sentimental ornaments on it. This tree isn't linkable any longer, but I will link some beautiful options that I would actually choose over this one if I were able to do it over again!
I used the same gold ribbon as last year, but added just a bit more to make it fuller. I also went out and found the same snow covered twigs, and added a few extra for fullness. If you get these, you'll notice they're MUCH too big to just stick in your tree, so you'll need to cut the branches off of the main stick! One of these will buy you three to four "tree picks" as you would traditionally buy them.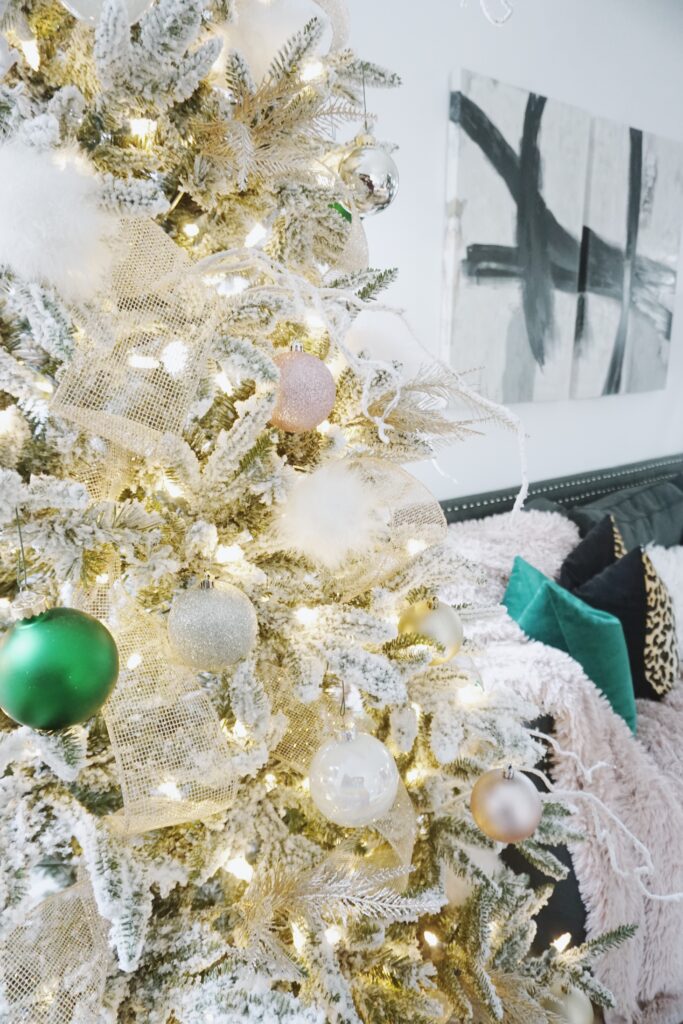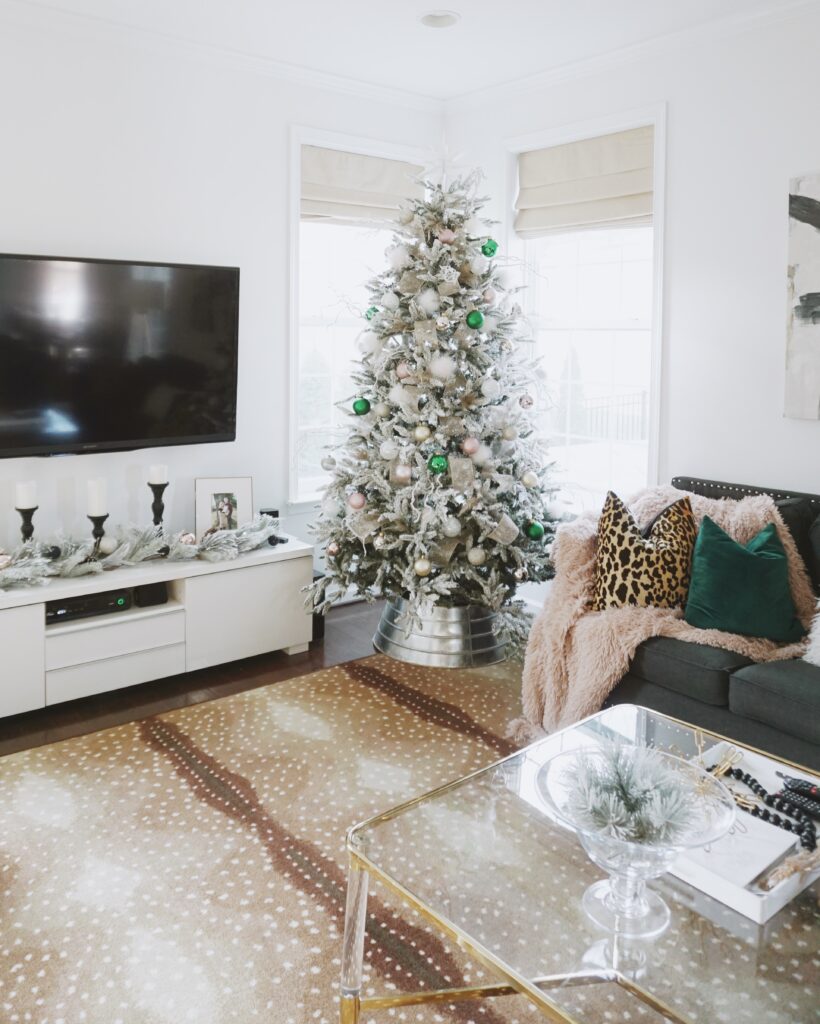 Next I added to my tree pick pom-poms, and added a blush pink color this year. I just love the visual interest they bring in both texture and color!
I continued to use the same gold fern-like picks, that I believe I found also as vase filler that I cut down to size! I tried to look for more this year, but I couldn't seem to find the same kind! I'll link a just as good option here.
Lastly, I hung the ornaments. I added a new series of blush, silver and gold tones to the existing emerald green. Last year I feel like I had a lot less bulbs hanging on the tree, but this year I just went for it! The more bulbs I added, the more playful it got.
I finished it off with our tree collar, and added some matching bulbs to our garland to tie the room together. I'm so happy with how our tree plays into our accessories in our living room, which I'll also link for you! (P.S. that blush pink blanket NEVER leaves my couch and I swear it's better than barefoot dreams for a fraction of the price!)
ALL of my tree decor and ornaments are on SUPER SALE right now – so even if you already finished decorating, but want this look, snag them for next year!!