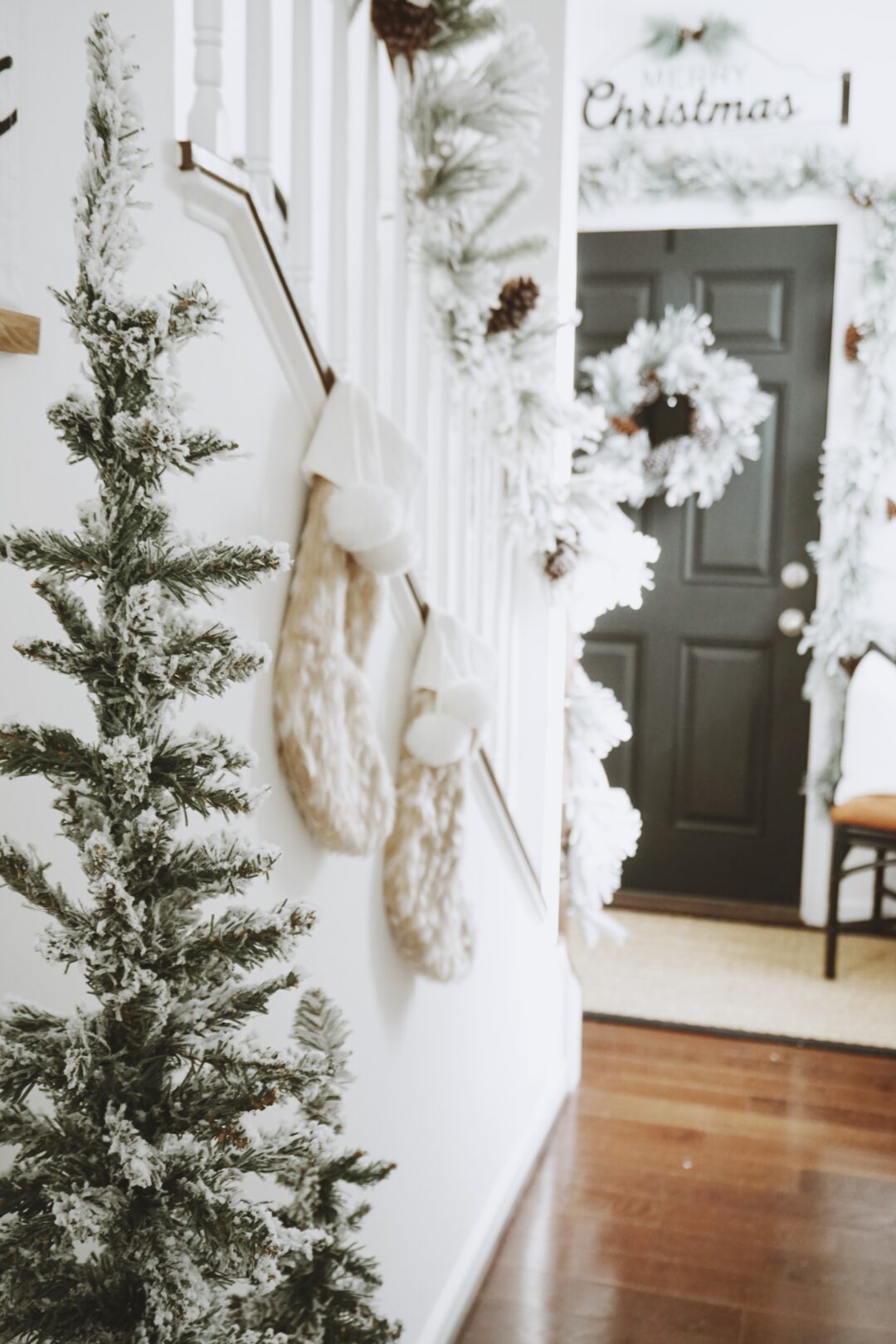 HOME // OUR HOLIDAY HOME TOUR
Better late than never, right!?
I fully intended to get this out much earlier in the season so that you guys could shop my home decor this year, but life just gets in the way and sometimes you just gotta reprioritize. Losing that extra weekend between Thanksgiving and Christmas really messed with me!
Anyways, I spent the time to shoot most of my Christmas decor so I was still determined to get it out and share our home with you! In case you're looking for any links, everything that is "shop-able" will be linked at the bottom of this post!
Let's start with the entry! I wanted to pull some of the warm tones in from our runner, and I did so by adding a wreath to our front door that had some warm tones in the pine cones, while bringing in the cool tones in the frosted greenery. This creates a nice bridge between the two elements as you walk through our front door!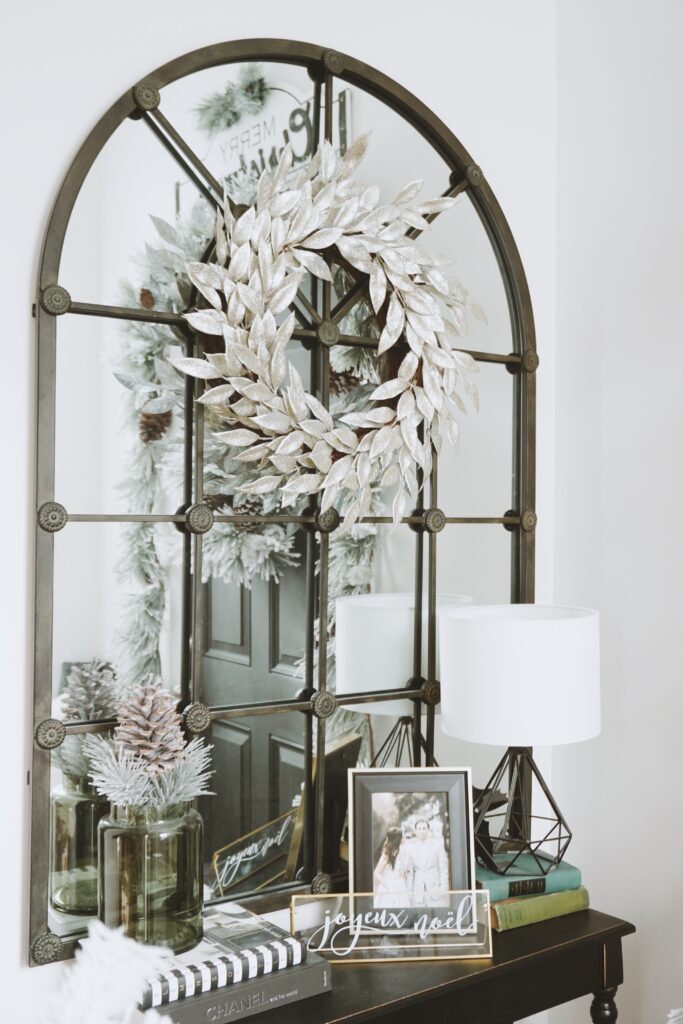 Behind our door, we have a little entry way table that I kept pretty simple. Just added a holiday arrangement in our green votive, a small gold sign on the table and hung a champaign wreath on our mirror.
I fully intended for these three trees to be used on our front porch, but when I saw them in here I couldn't bring myself to move them! I added garland down the banister and around the door and finished it all off with a matching wreath. And of course, you cant forget about the fabulous fawn print stockings I found last minute that create a beautiful bridge between our antelope stair runner and living room rug!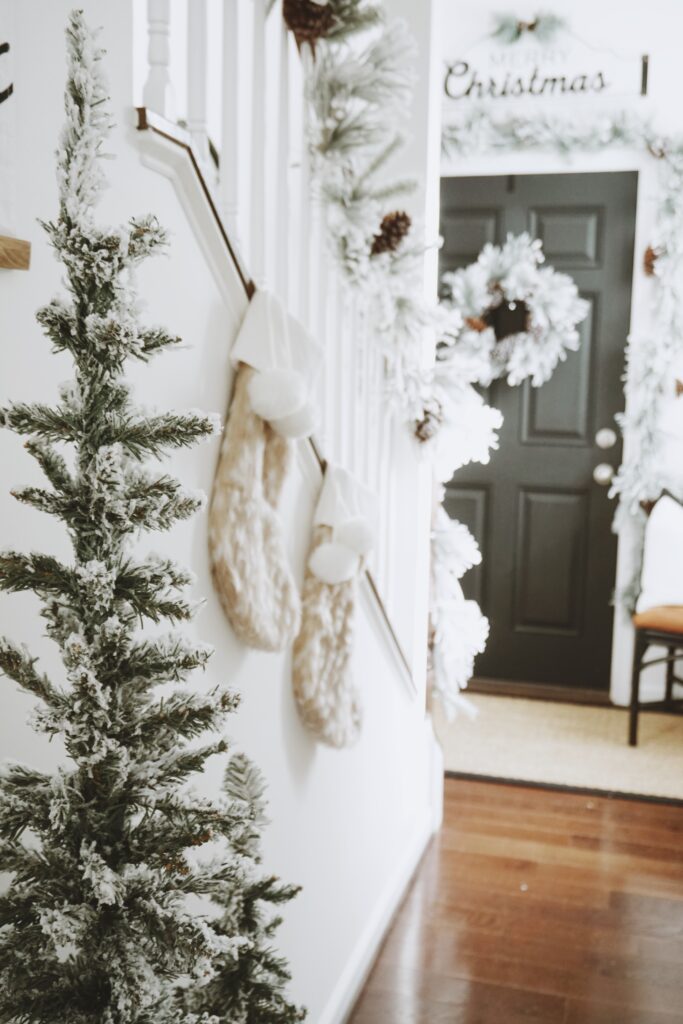 As you probably saw in my last post, I decided to go a bit more whimsical with our tree this year. The blush tones were giving me MAJOR inspo this year, so I decided to swap out most of our matte black decor for blush and pastel tones. It really lightened up the space, without making it fee *too* girly and feminine. Keeping the greens in the palette definitely helped balance it out a bit!
We also have green velvet curtains in our dining room, which I changed out for fall & winter. At first they felt a bit dark, but with the addition of the green Christmas decor, I fell in love with them! They make the space feel rich and warm.
I added a matching small garland for the centerpiece, and kept it pretty simple. Our table is small, and the reality is most of this needs moved when we have more than 2 guests over, so I try not to overthink this space!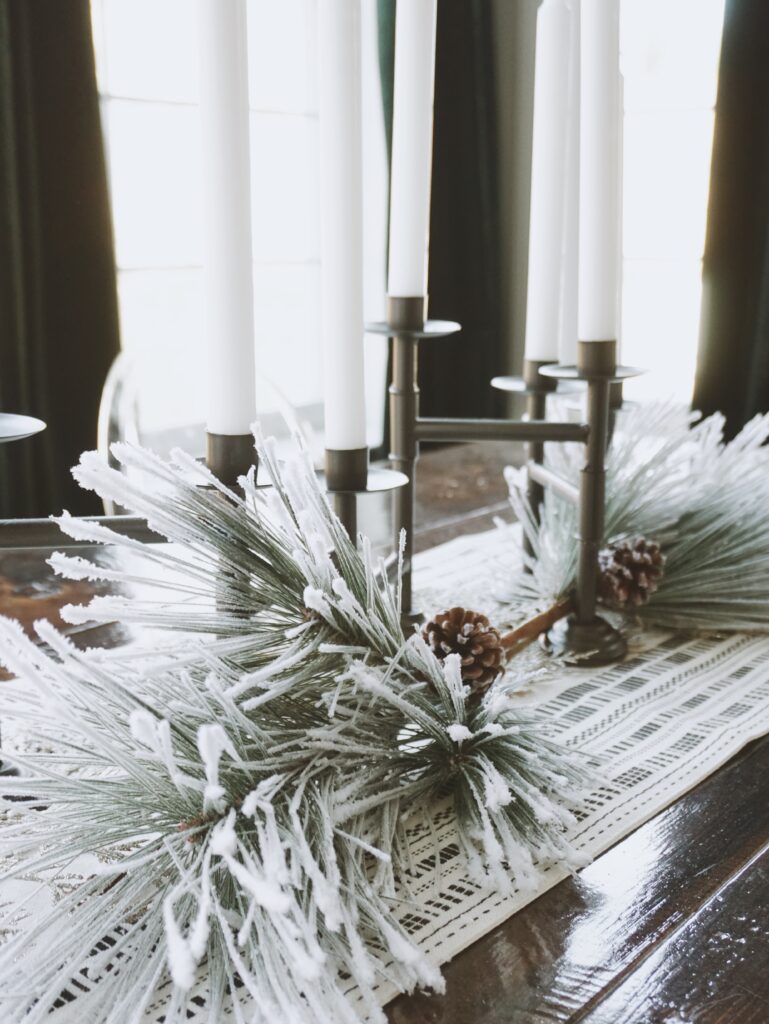 SPOILER ALERT: You're getting a sneak peak at our *almost* finished home office/loft space. We still need to get curtains and hang artwork, but otherwise its just about finished and will be ready to share soon! In the meantime, here's a sneak peak of how I chose to decorate it for the holidays.
Remember that garland fiasco on stories from last month? If not, I'll spare you, but essentially I had 100 pieces of 4 different types of garland in our house one weekend, because I changed my mind a thousand times before going with that beautiful large flocked set. Well anyways, this was on of the contenders, and I ended up not returning *all* of it… Some made its way upstairs and it just went perfect with the mid-century modern vibe up here.
I also added a matching walnut and gold "noel" sign in our book case (which I unexpectedly found thrifting a few weeks ago for 3 dollars) and called it done! Next year I'd like to get a black (yes, black) tree for up here, but I wasn't ready to add a 4th tree in our house just yet!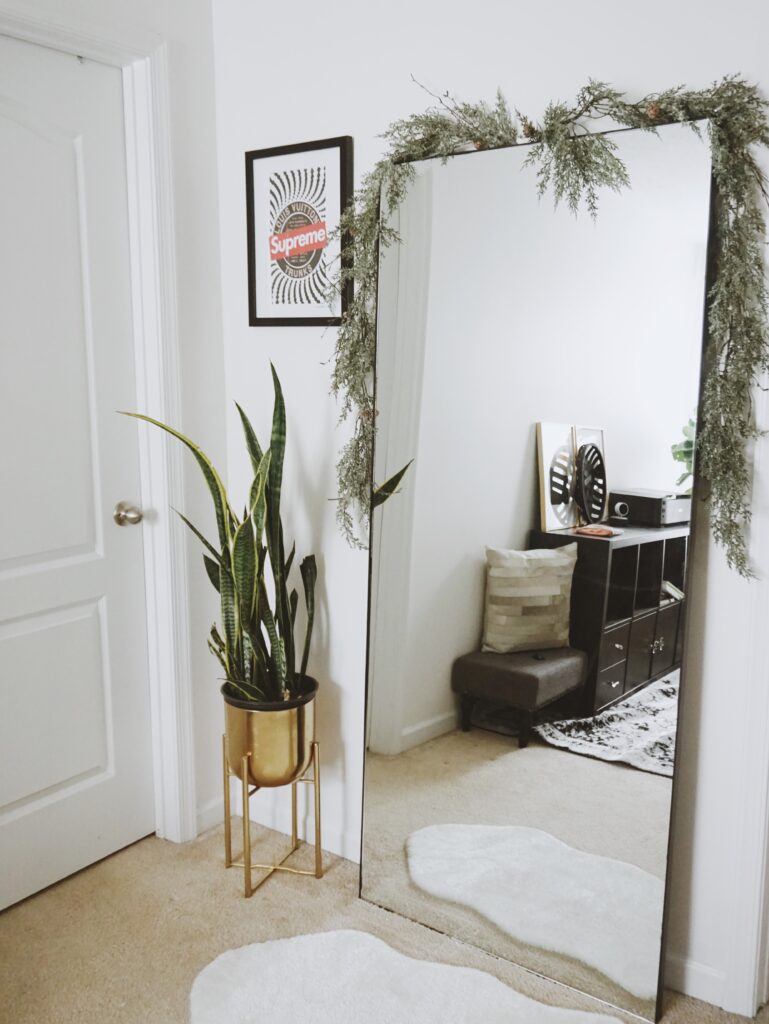 Lastly, in our master bedroom I had this cute little tray up here from a collab I shot a few weeks back that just never got put away. It was a little happy decor accident as a product of my laziness that I ended up keeping for the holidays! I added that same garland to the top of our headboard and wrapped it in fairy lights. Its SO cozy at night when we are reading or watching a movie!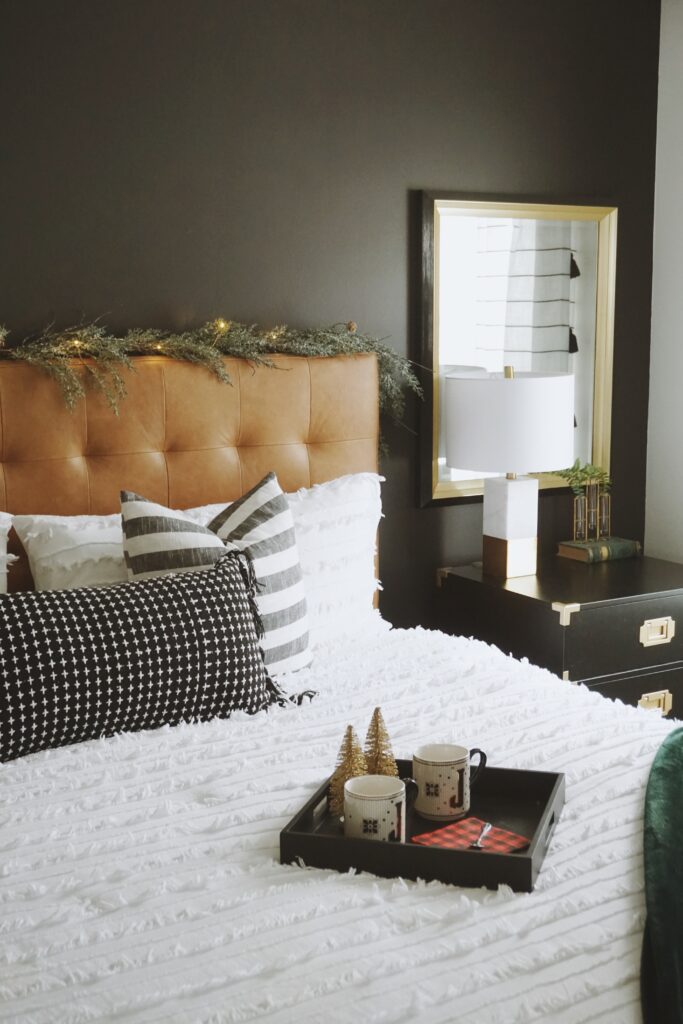 I hope you enjoyed seeing a little tour of our home during the holidays! I'll link some of the holiday decor below, but if you are looking for any other sources check out my "shop" tab where I link sources to all of my photo's I post! You can also check out my previous blog post where I dive into all of the sources and details in my tree here!
I hope you guys have a wonderful holiday!