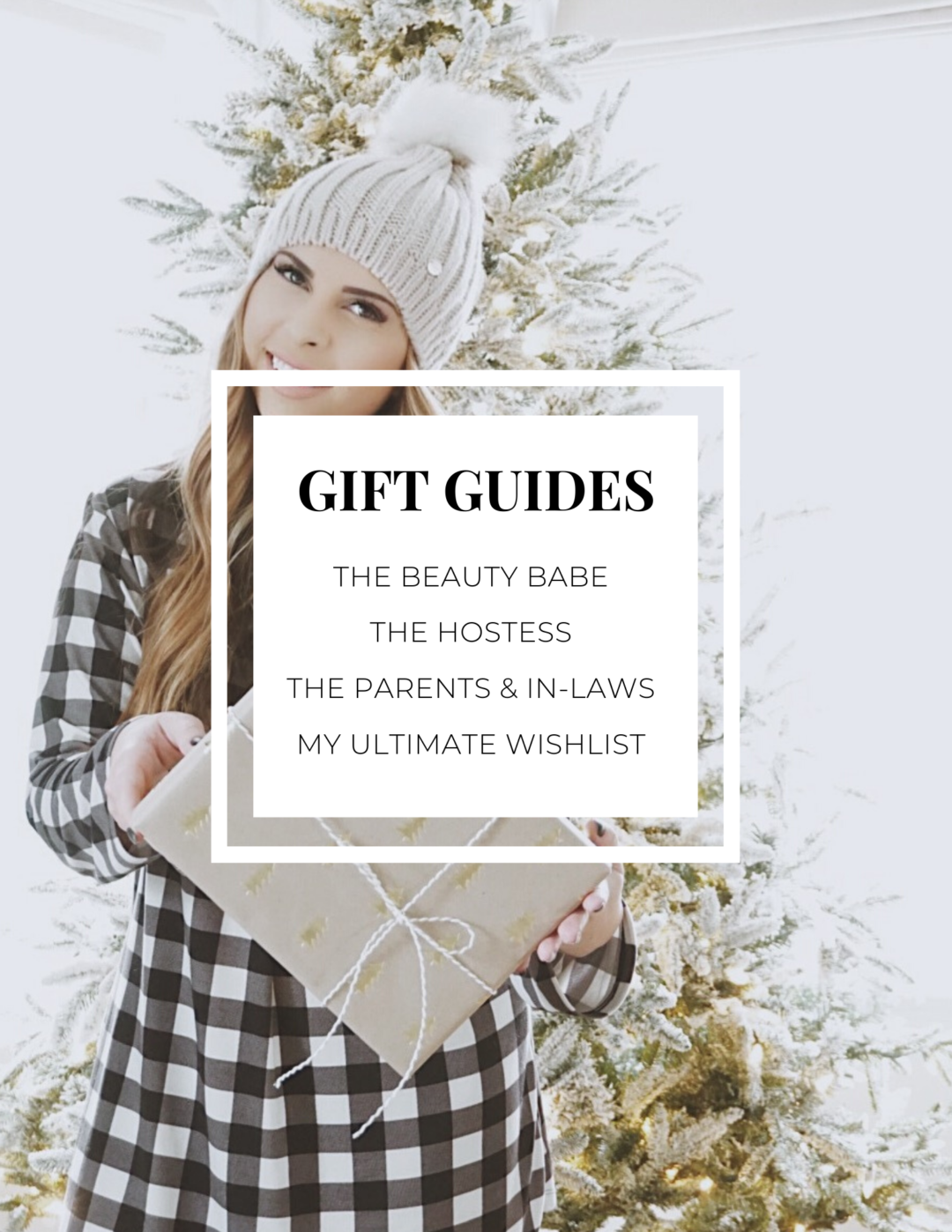 GIFT GUIDES // HIGHEST VOTED
HAPPY SATURDAY!
I wanted to bring you the next highest voted gift guides in my last instagram poll! I'm covering everything from your bestie or sissy who loves her beauty products, some gifts for your holiday hostess, gifts that are great for couples, parents and in-laws, and lastly whats on my ultimate wishlist!
Since there's a lot to go through, I wont be breaking them down in as much depth as my last gift guide. So if you have any questions, let me know!
As always, I love when you shop through my links, as I get a small commission for every purchase! It means the world to me when you come to my blog, read my posts and engage in my content, so THANK YOU!!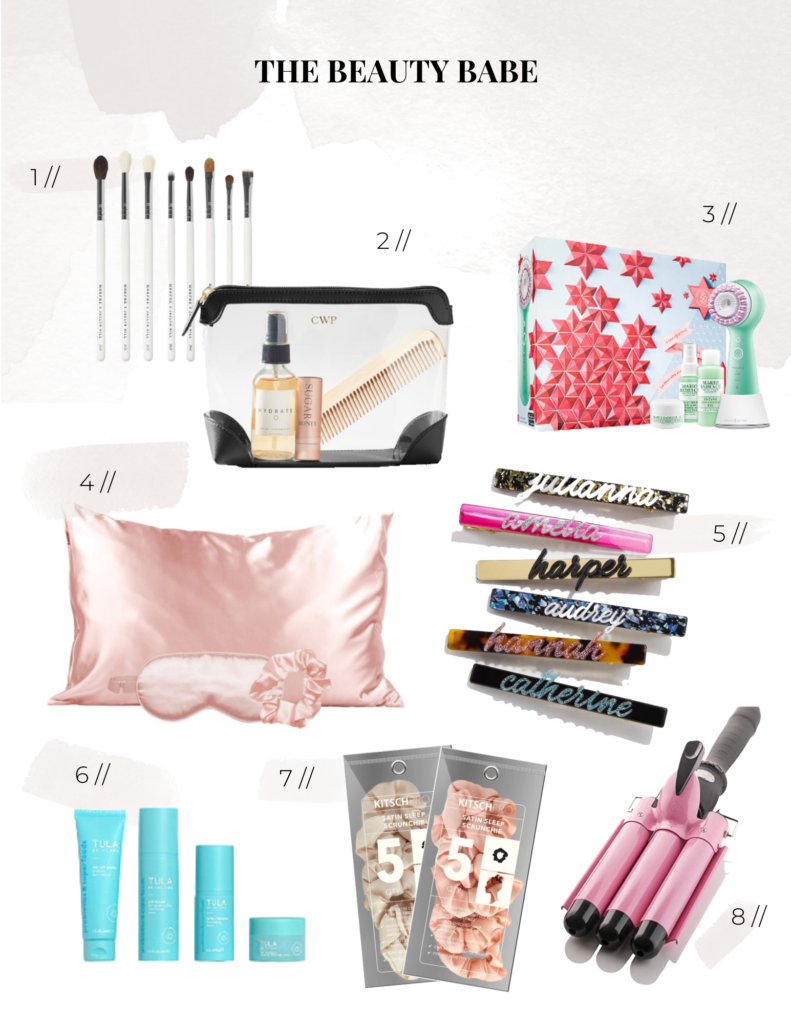 1 // MORPHE BRUSH SETS // These are my fave brushes hands down, and it's a complete set for any eyeshadow look.
2 // MONOGRAM CLEAR POUCH // Wipeable, washable & easy to sort through your stuff when traveling
3 // CLAIRSONIC GIFT SET // Guys, this is life changing if you or someone you know doesn't have one. I promise I'm not being dramatic. I have had one for two years and idk how I lived before. oh, and this one comes with a charging base! (way more convenient than my edition)
4 // SILK PILLOW CASE & SLEEP MASK // Great for girls who go multiple days between washes. Helps keep your hair styles set and reduces breakage.
5 // CUSTOM NAME HAIR CLIP // I especially love the tortoise with white combo! These are so cute and I love a personalized gift at a good price point! It's affordable but also feels special!
6 // TULA DISCOVERY KIT // I recently switched to Tula products and I wont be going back! I started with this kit, and its everything you need! Plus it comes in a cute travel case.
7 // SILK HAIR SCRUNCHIES // I wear one every night. They reduce friction which traditionally causes breakage. Plus it doesn't make a kink which is important to me when I go a few days without washing my hair!
8 // HAIR WAVER // My new favorite hair tool! It seriously gives you mermaid hair!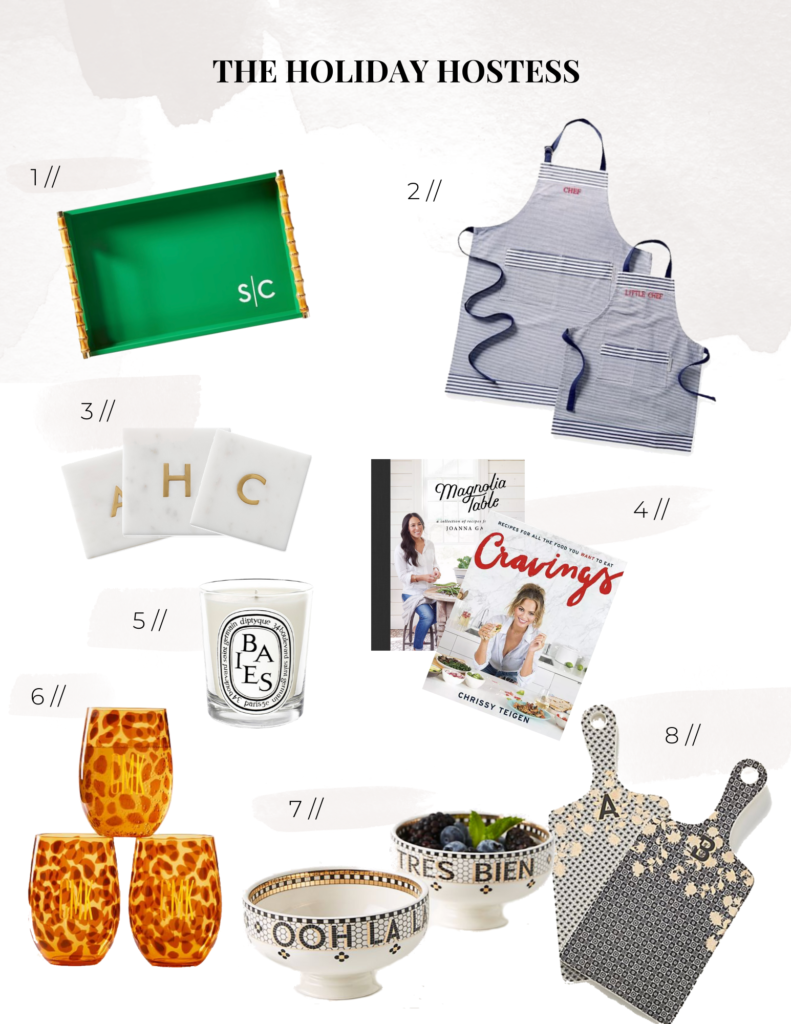 1 // MONOGRAM ACRYLIC & BAMBOO TRAY // Love the green the most, but comes in multiple colors.
2 // MOM & ME APRON SET // So cute for a hostess with children!
3 // MARBLE MONOGRAM COASTERS // These are AMAZING quality and the brass inlay is beautiful.
5 // DIPTYQUE CANDLE // These candles don't disappoint. They have a million sets, and once your finished you can use the glass to hold your make up brushes, flowers, etc… It's the gift that keeps on giving!
4 // COOK BOOKS // I'm linking two faves, a Chrissy T & Magnolia option!
5 // TORTOISE MONOGRAM GLASSWARE // These are so elegant. When making monograms for households, I tend to use both first initials of the couple, then their last name. So, for example, Adam & Freesia Jason (yes, our last name is Jason) would be AJF.
7 // SERVING BOWLS // These are my FAVORITE dish line this year. I want to collect it all!
8 // MONOGRAM SERVING BOARD // The detail is beautiful and you know I love the personal touch!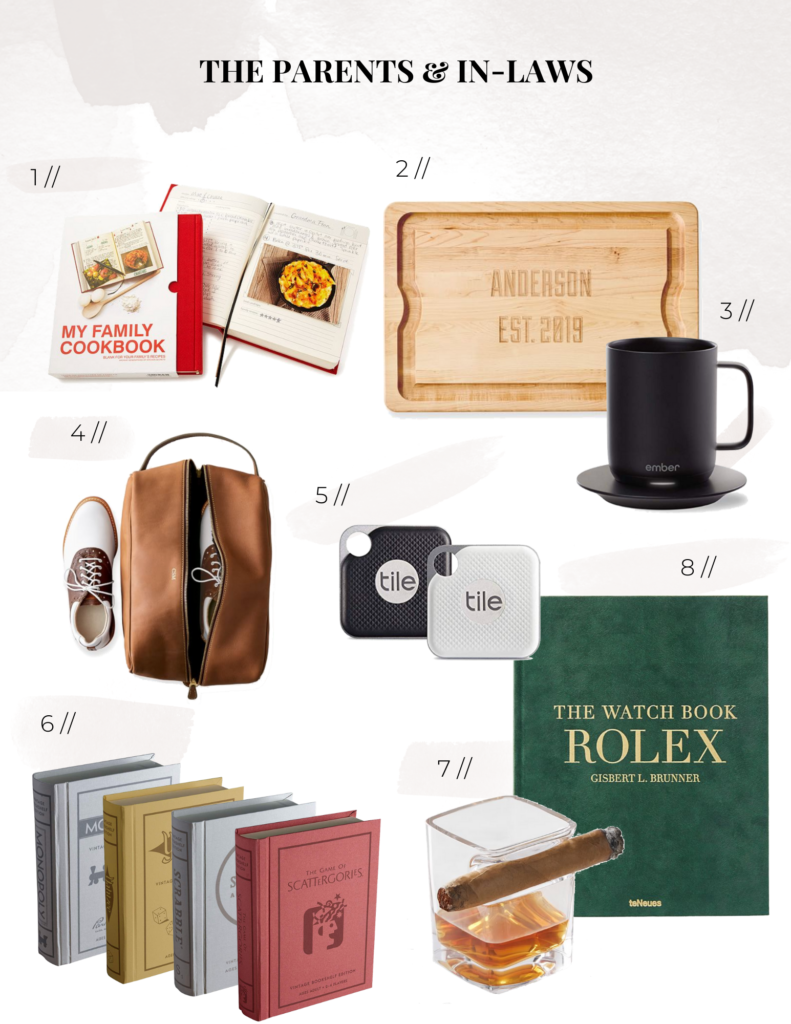 1 // FAMILY COOKBOOK // This is great for any parent who stashes recipes in a drawer! Give them somewhere to keep them all!
2 // CUSTOM BBQ BOARD // Love that this is gender neutral, so this is great for a father-in-law who loves to grill out!
3 // EMBER HEATED MUG // Great for the coffee & tea drinkers in your life! The mug is chargeable so it stays warm until your finished!
4 // LEATHER MONOGRAM GOLF SHOE BAG // Great for an avid golf player that appreciates the high quality pieces!
5 // TILE // Anyone you know misplacing their wallets and keys often? Tag them with a tile & they'll never lose them again!
6 // LINEN BOOK BOARD GAMES // This is awesome for families that do game night! They are beautiful "books" that can sit on a shelf for easy access! Monopoly, Scattergories, Yahtzee & Scrabble linked here.
7 // WHISKEY GLASS // Good for the men who enjoy a hard cocktail and a good cigar.
8 // ROLEX BOOK // Know any men into watches? This is a great coffee table book or office book with the full brand history and watch edition stories.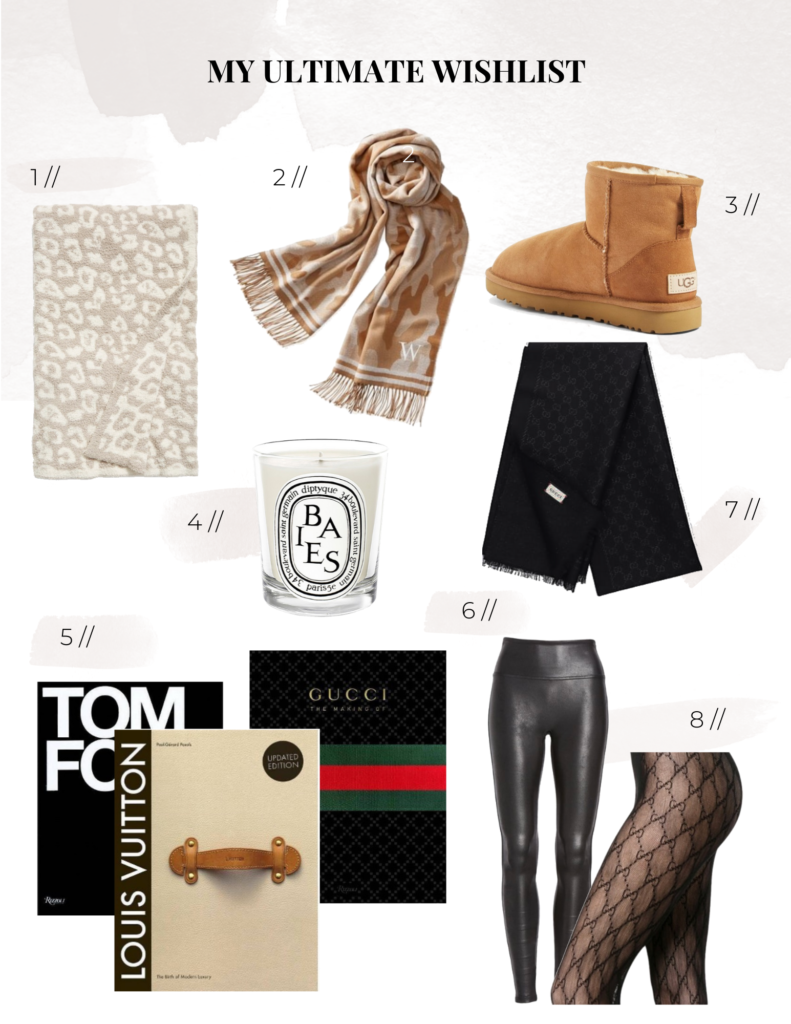 1 // BEARFOOT DREAMS BLANKET // Ever felt one of these?! They are the softest things on the PLANET!
2 // MONOGRAM SCARF // I'm wearing all things tan, cognac and brown lately, so this is such a good color combo!
3 // UGGS MINI // I really tried to stay away, but I finally caved and decided that I need a pair of these for cold legging weather! The mini's look much more structured than the mid or talls IMO, so I think those are the winners!
4 // DIPTYQUE CANDLE // I love these so much. They are pricey for candles, so I never buy them for myself. They make great gifts!
5 // ALL THE COFFEE TABLE BOOKS // These are the three i've been eyeing: TOM FORD, LOUIS VUITTON, & GUCCI.
6 // SPANX LEATHER LEGGINGS // Not much to say here other than I've been wanting a pair forever but I never pulled the trigger!
7 // BLACK GUCCI SCARF // These next two are Gucci items I've been lusting over for a while now. This one is pricey, and I'm not asking for it for Christmas, but it is on my "eventually wish list" so I thought I would include it!
8 // GUCCI TIGHTS // Yep, another Gucci item. These are expensive for tights, but not un-attainable in general. Since they are expensive for tights, it's not something I have purchased for myself. Would I take 'em as a gift, HECK YES! Is anyone else like that?! I already have a thousand outfits in my head, yet I never pulled the trigger??
That covers the second edition of my gift lists! The "Last Minute Gifter" will be coming, don't worry – it will just be coming closer to Christmas! Anything I haven't covered? What do you want to see next?!