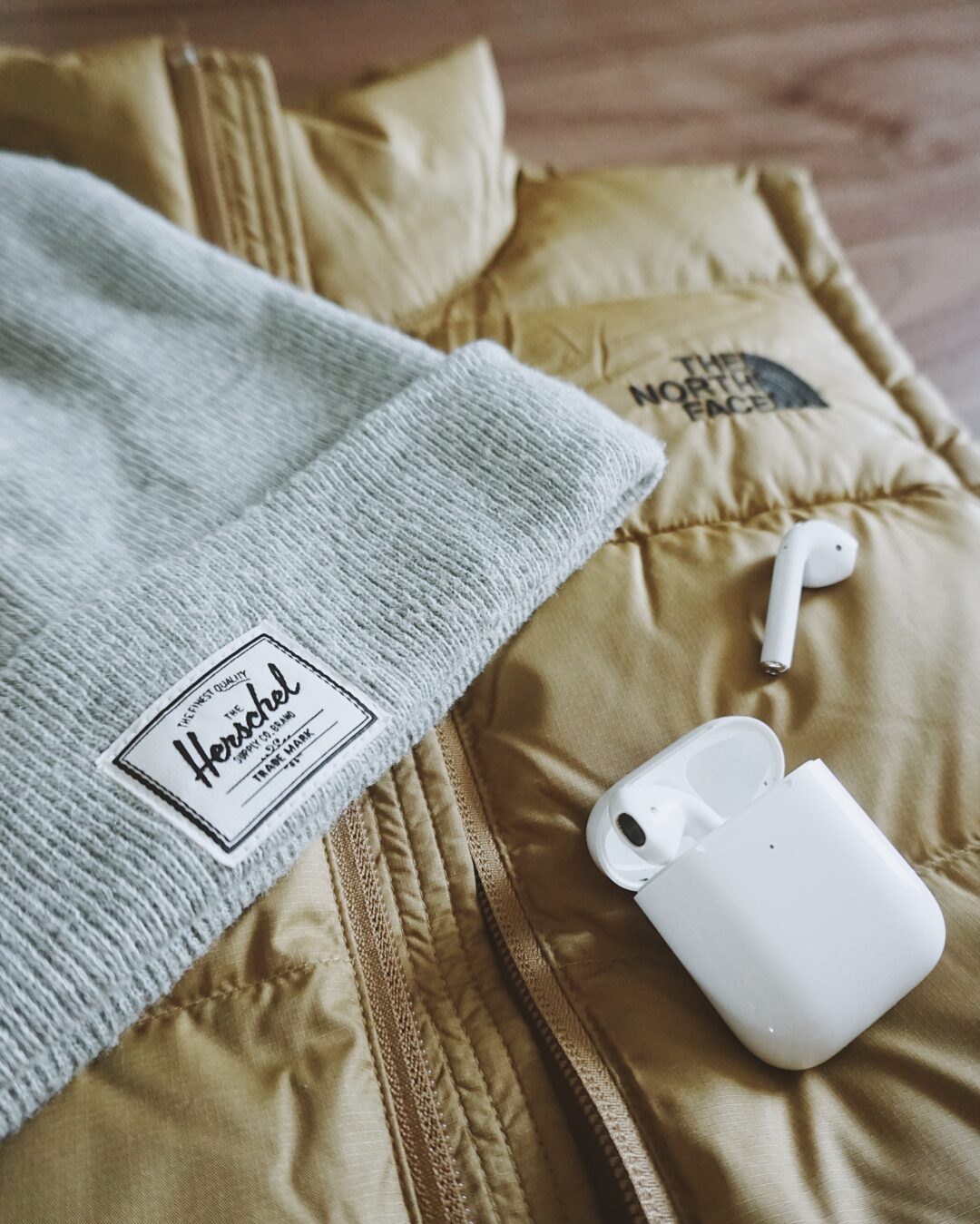 GIFT GUIDE // THE MAN WHO WANTS "NOTHING"
This post is for all of you women who know the struggle of buying gifts for your significant other… And for those of you who are living that single lady life, YOU GO GLENN COCO!!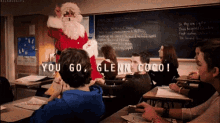 BUT, I know you guys know the struggle. You ask them what they want and you get the classic, "I don't know" "I don't need anything" "Why don't we just save the money" or my favorite, "NOTHING". ugh… and you know that's just not an option! I know not everyone exchanges gifts, but most years we enjoy giving each other something thoughtful, or small, because who doesn't like unwrapping gifts under the tree!?
So, I pulled together a gift guide for the guy who wants "nothing" or has "everything" so that you have some options this season when you get overwhelmed or stuck! If your shopping early, a lot of these items are actually on sale now, so if that's your thing, you should try snagging some of these items now!
BTW, everything on here my hubs approved or personally owns & I can speak to the quality of mostly everything here! I didn't want to throw a bunch of things at you that I couldn't personally speak to, so instead, I pulled together a carefully curated list that I can stand behind!
Side note: When you shop through my links it means the world to me because I get a small commission for that sale. Because of this, I always make sure I share items that I own, or would buy myself! So THANK YOU in advanced for shopping with me <3
OKAY, LETS GET TO IT.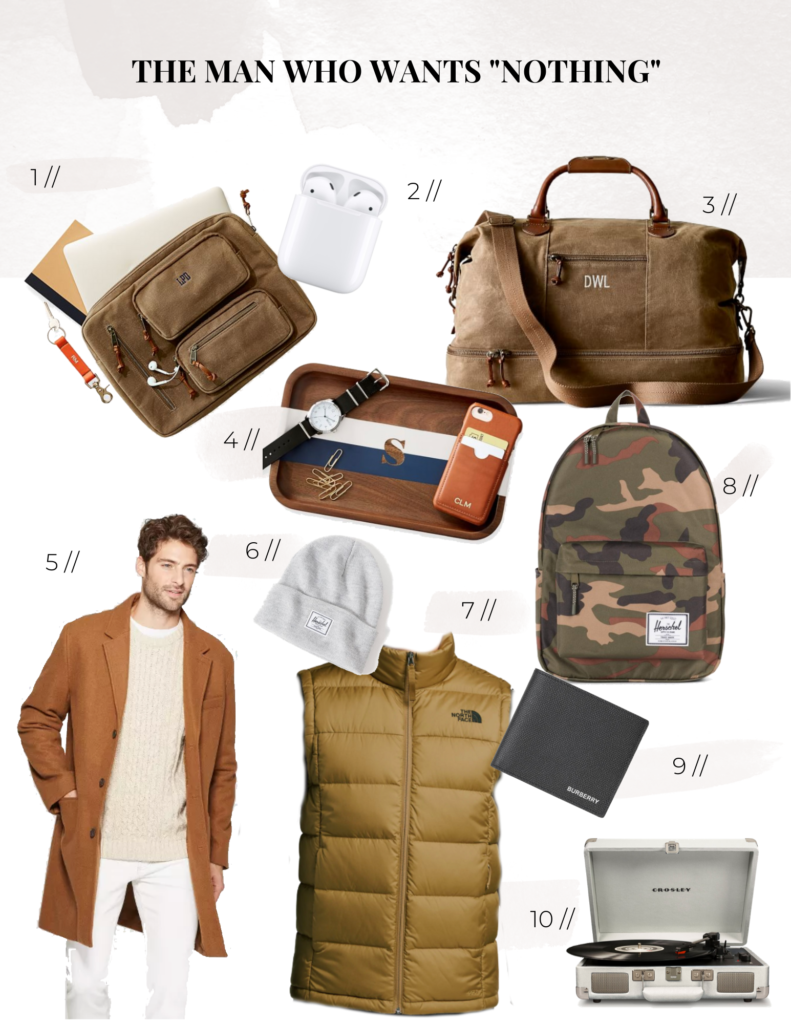 1 // Waxed Canvas Monogram Tech Case // Last year Adam received the matching book bag from my mom and he has used it every day! It still looks as new as the day he got it, so I can really speak to the quality of this product line! I love that there is a whole series of these products (ALL CURRENTLY ON SALE), so if you are looking to get your man a set, you can basically get him everything he needs for work & travel in the same line!
2 // Wireless Airpods // I personally recieved a pair from my hubs for my birthday, and it was LIFE CHANGING. That may be a bit dramatic, but have you ever caught your headphones on the treadmill bar during your workout, or ripped them out of your ears when reaching for something in your morning walk into the office…? I'm telling you, it's a game changer. They stay charged FOREVER, and I love that they start and stop your music when you pull one out of your ear if you need to quickly hear something.
3 // Waxed Canvas Monogram Duffle // Again, the quality of this line is amazing, so this is something that my hubs has been eyeing. What I love about this one specifically, is that it has a bottom sturdy zip compartment for shoes, so that you can keep your clean clothes separate! I also love the leather accents on this bag, bringing it up a level in sophistication and style. This one also comes in two other colors, navy and army green.
4 // Walnut Monogram Catch All // This is great for a guy who has a cluttered nightstand with no where to throw his daily watch, change or wallet. This might be a little for him and a little for you… but don't you wish his nightstand was neat and tidy too?!
5 // Camel Overcoat // I wanted to give you guys an affordable option for a nice trendy overcoat. A lot of the overcoats out there are a bit pricey, and this one really impressed me for the price. We just purchased this coat together the other day and I'll tell ya – the color and fit is fantastic. Two things to note on this one: 1. This is not 100% wool, so it will not be as warm as if you bought a pricier wool coat, but def warm enough for most occasions, especially paired with a sweater or scarf. 2. If you order online, you may need to steam out a few wrinkles because of said wool-blend. Overall, he was super happy with the quality and price, so it's going to be in his rotation all winter long.
6 // Herschel Beanie // Wanted to give you guys a small, good quality item as well. This beanie is thick, warm and great quality. Adam has had one for over a year and it still looks as new as the day we bought it!
7 // The North Face Vest // First let me say, THIS COLOR IS BEAUTIFUL in person. I'm loving this mustard/gold trend on men right now – its personally one of my favorite colors on my hubs, so I was all over it! This one is warm, and Adam usually pairs it with a thick sweater or hooded sweatshirt. Paired with Tims and a gold watch, it definitely pulls together a look.
8 // Herschel Backpack // These are good quality book bags at a really great price point. They make really nice neutral options, along with trendy prints like this camo. I love that this camo is more on the tan side, making it a bit more mature and color neutral! I want to make sure I mention that I personally tend to stay away from from any Herschel products that feature the faux leather on them, because I find those to wear down quickly and not look the highest quality for the price!
9 // Burberry Wallet // Okay, so this is a splurge item. But maybe you're celebrating a special year, or are looking to combine a gift… I wanted to give you a splurge item that was worth the price and that I could personally speak to. If you ask Adam, he would stand behind this one 100%. My favorite splurge items for men are wallets and belts. They use them every day & if you get a quality item, they will least for YEARS. He used to go through wallets every year. If you spend 60-100 dollars on leather wallet, but buy them for 3-4 years in a row, you've spent the same amount as a wallet that can last even longer! This will be his 3rd Christmas since I bought him his leather Burberry wallet and it looks BRAND NEW. The material is a coarse grain and super durable. No regrets here! (They no longer make his exact wallet, but this looks to be almost identical in material and look as his)
10 // Record Player // Let's end on a fun gift, shall we? This is something that no one buys for themselves, but mostly everyone would enjoy having. It's nostalgic, fun and a nice hobby that you could get into. I personally used to collect records from thrift shops, and I can still remember the crackle over my favorite old school songs. This is compact option at a good price point that can be put on display, or put away when your not using, making it number 10 on my list!
I hope you enjoyed the first of many gift guides that will be rolling out this season! Let me know in the comments below if you purchased anything, or if there is something else you are looking for that I may have ran into in my search!
Happy Shopping!