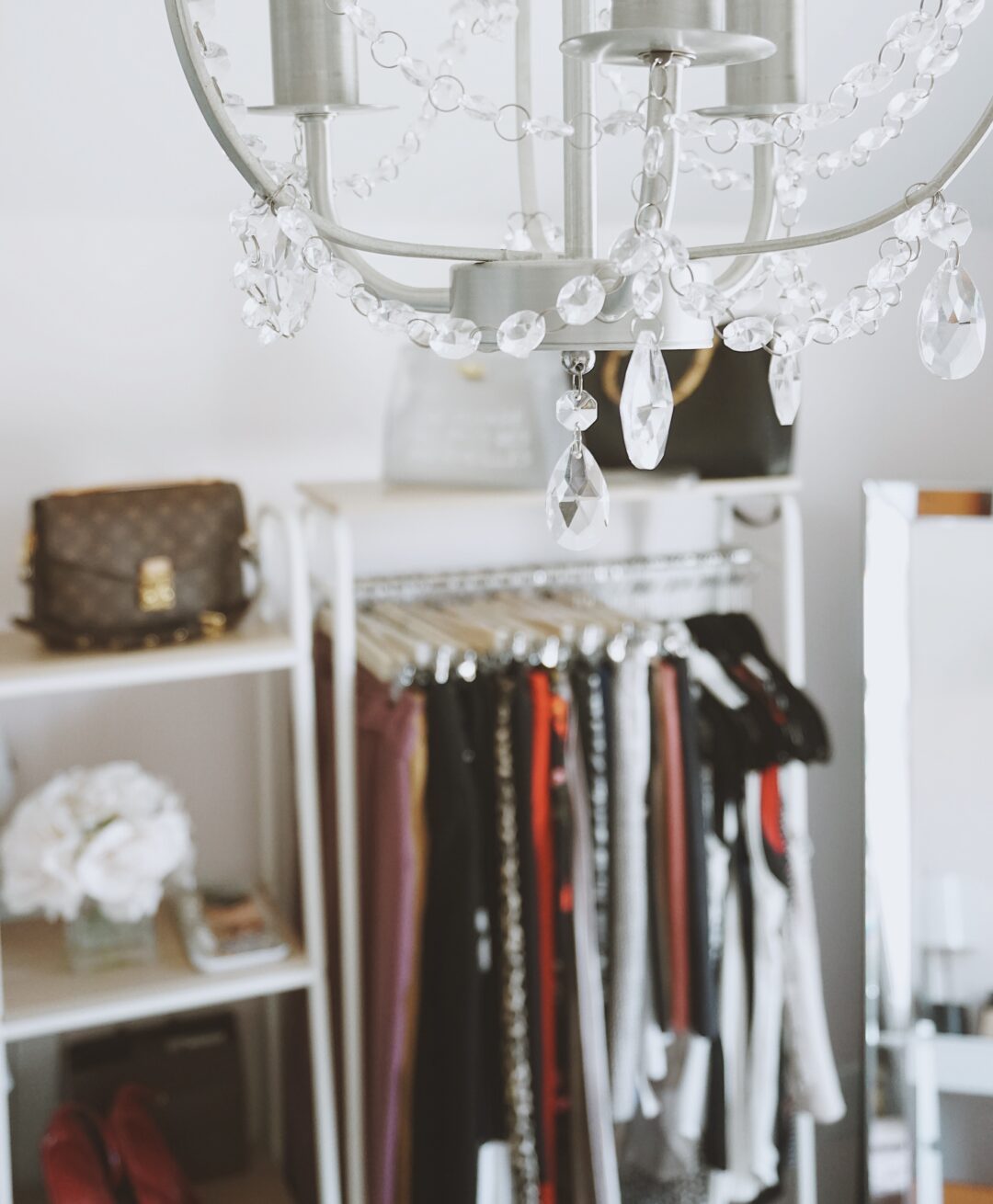 GUYS!! I'm so excited to share my closet with you! This project has been a year in the making, but over the last month I kicked it into high gear to FINALLY get it done!
So first and foremost, the reality is that this is technically a bedroom in our house, not our master closet. Our master closet is a walk in, but its a bit small for both mine and my husbands clothes… I'm sure we could have made it work, but we also had a small bedroom at the front of our house with dormers that wasn't being used for anything but storage that would work perfect!
So I pulled these before photos from the listing of our house to show you guys the space. I'm the worst blogger, and ALWAYS forget to take before photos (eyeroll emoji) – but it gives you a good idea of the space I was working with!
Its a small bedroom, that could be the CUTEST nursery, but not big enough for much else. Since my husband and I aren't ready for kids yet, I figured I'd make it mine in the meantime! (BUT if I had a girl this new closet could be a super cute girls nursery if it had to be LOL)
Because we don't know where life will take us over the next few years, I didn't want to make this update too permanent by installing racks or by making installing a closet system directly too the walls. The other thing I had to work around were these attic access points, and the already existing closet door. This just caused me to have to be creative in the type of storage solution I came up with!
As far as the overall design goes, this was the only space that I don't have to share, so I decided to go ultra girly glam, which is SO not my normal design aesthetic, however I'm so happy I did! I feel like I got all the girly glam vibes out of my system, so I can keep it a tad more neutral everywhere else for my husband's sake!
I chose a very pale pink for the long walls, a bright white for the ceiling, and then of course this black and white Dalmatian wallpaper on the opposite walls. I've been wanting to find a spot for this wallpaper somewhere in the house, and I'm super happy with my decision!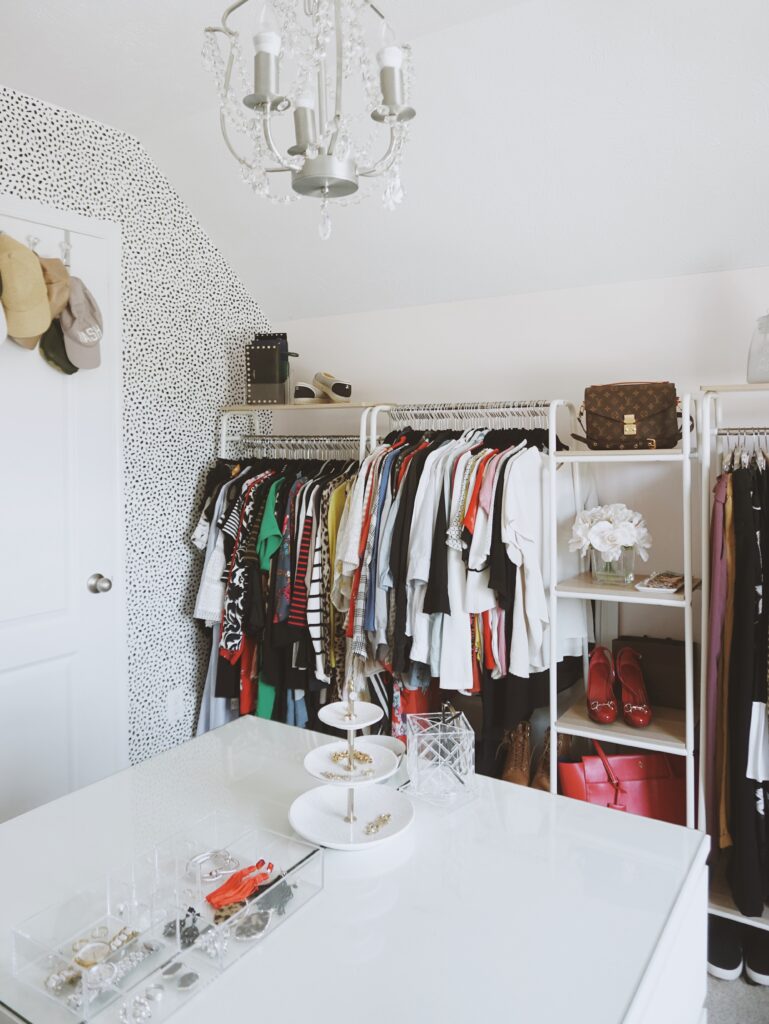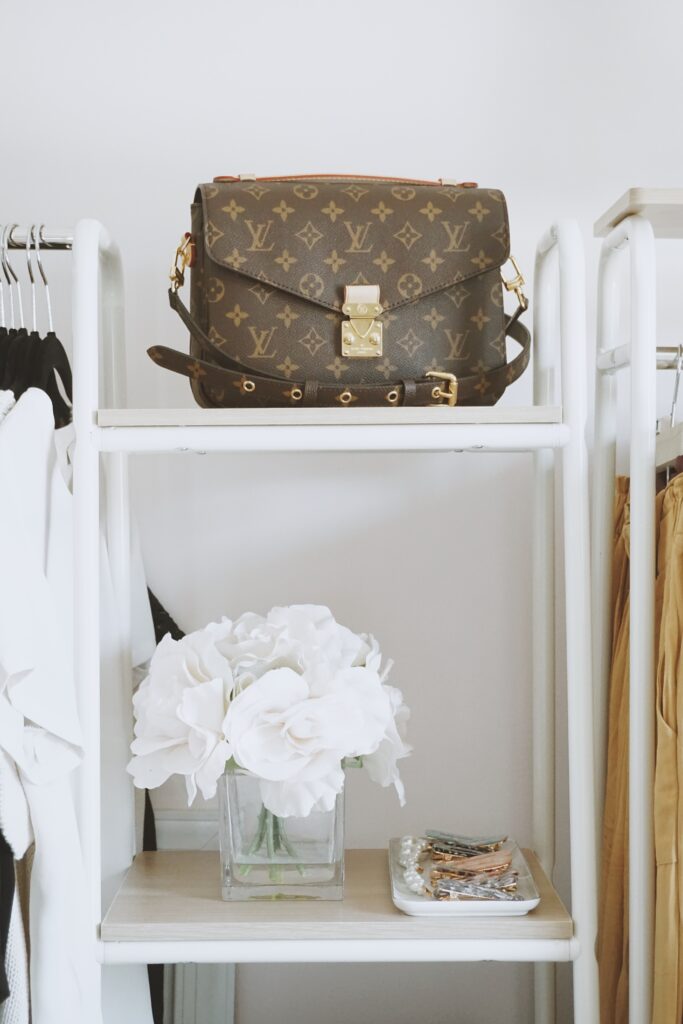 So as you can see, I decided to get 3 free standing clothing racks that I placed side by side to create a wall of clothes storage. I bought two of the full racks, and one of the racks that had shelf storage. With the amount of clothes I have, I think if I could go back I would have bought all three of the plain racks because I find that my clothes fit pretty snugly and I would have to preferred to have a bit more room to slide the hangers. I thought I would need more storage for handbags, but the reality is that the other racks have a shelf on the top of them, which would have probably worked just fine!
I also really wanted to incorporate drawer storage for all of my tees, sweaters, jeans and work pants. I dreamed of an island, but knew it wouldn't be reasonable to spend a ton of money in this room since it may not be a long term solution. It finally hit me that we had two Malm nightstand/dressers from Ikea that came out of our old bedroom when we renovated that space. I was so pleased to find that when I butted them up against each other centered in the room, they fit perfectly! I already had two glass tops for them, and voila! a chic island for the center of my closet for free!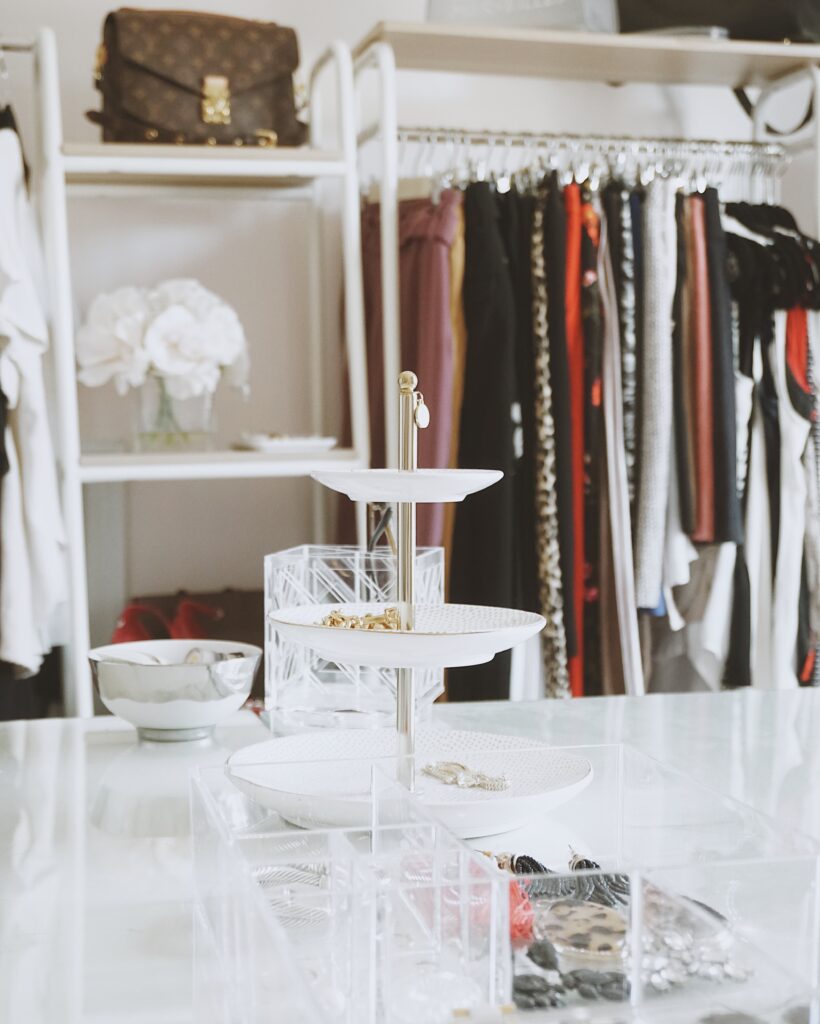 It's a great spot to not only put my clothes, but I've been testing out some different storage solutions for the top that I can unload my everyday jewelry into. I love the look of acrylic, so I purchased this flat acrylic jewelry organizer and an acrylic spinning brush holder that also fits my sunglasses perfectly.
I also picked up this three tier ceramic jewelry tray for some height in the center of the island. I picked this up at Home Goods, but I found the same one on Amazon that I linked for you guys!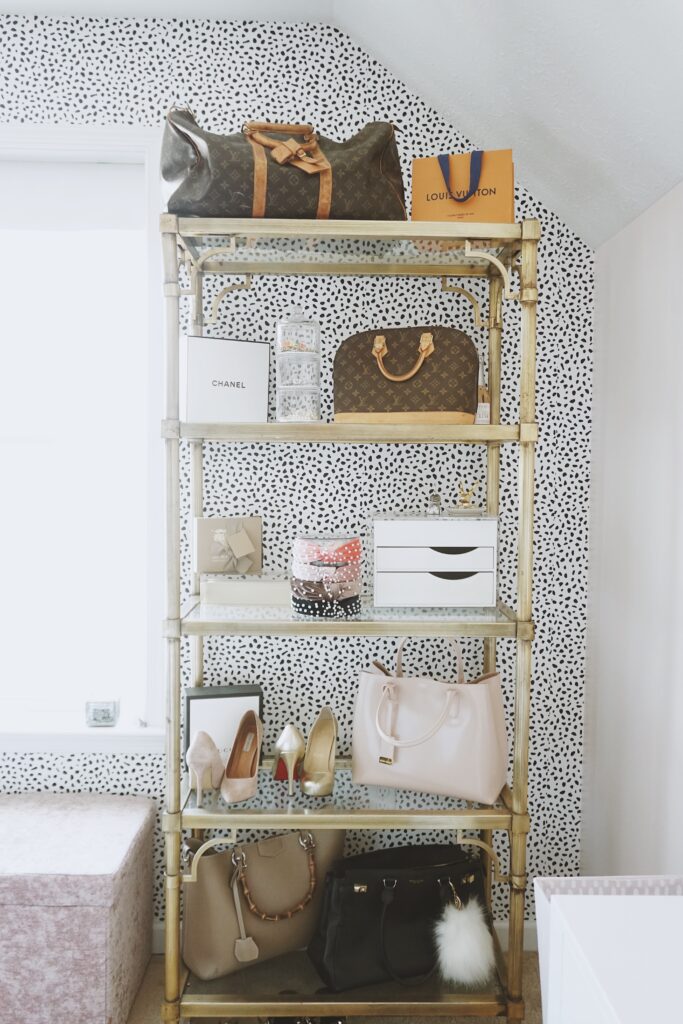 Speaking of storage, I've had this beautiful set of shelves that I scored at a thrift store years ago that I was able to incorporate here. I love to display my handbags, cute designer boxes & my hair accessories on it.
I also bought two of those blush pink storage ottomans! They are a fantastic price for how sturdy and high quality they are! I originally bought one and ended up getting two for under the window. I store folded totes, scarves and bigger knit sweaters for winter.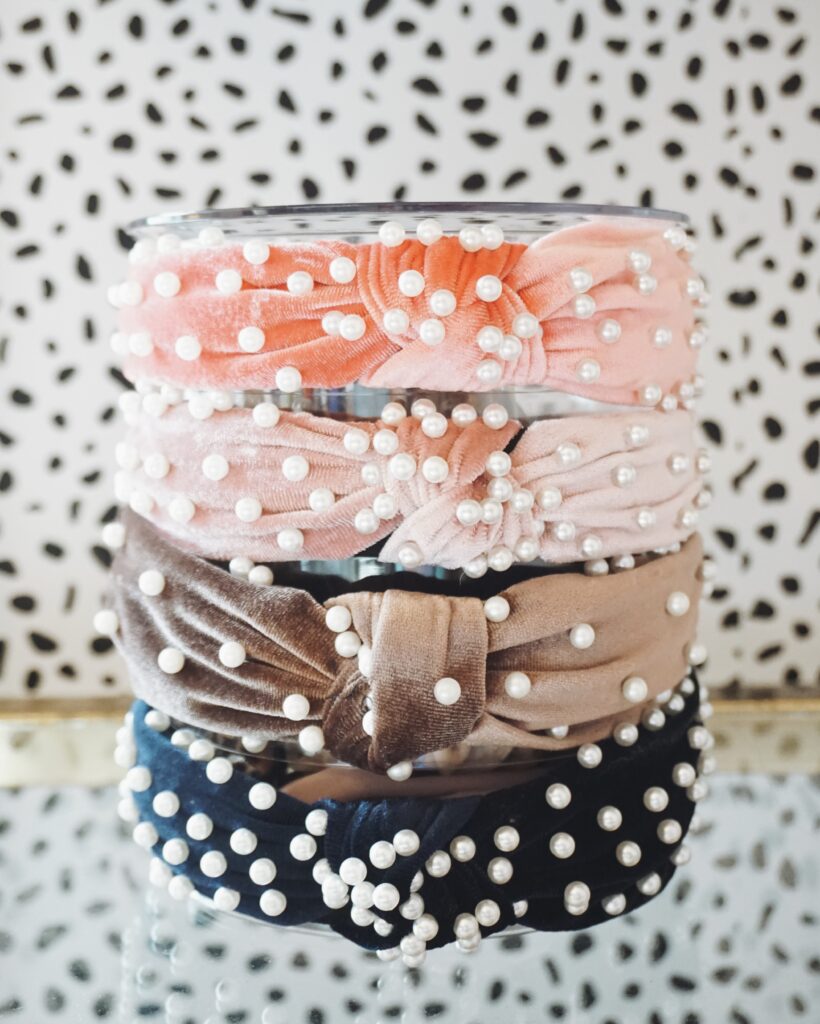 I love clever storage solutions, and this headband holder not only holds headbands around it, but has two compartments inside for soft headbands and hair ties! There are more expensive ones out there that a lot of bloggers have been promoting, but I found this one for a quarter of the price for $13!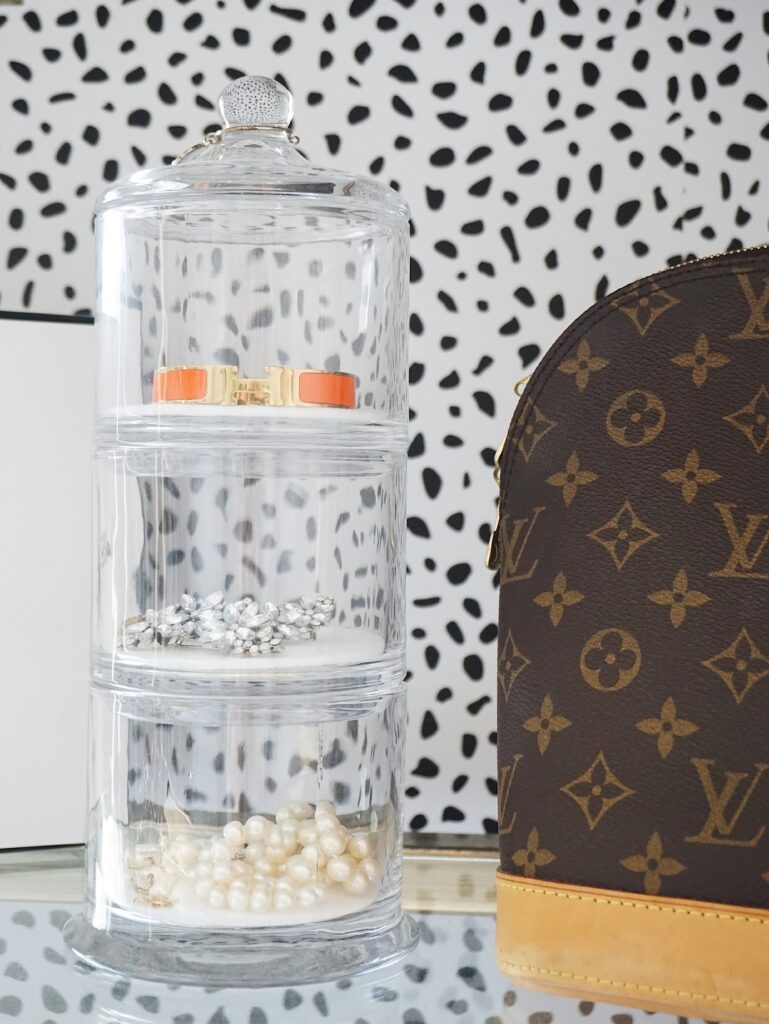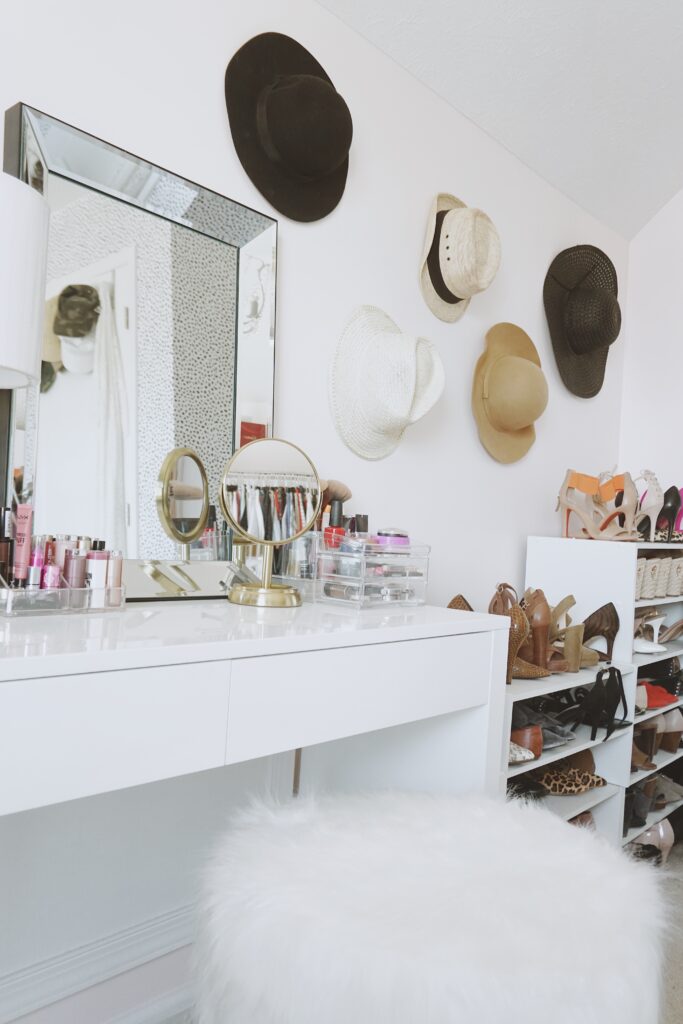 So I didn't plan on putting a vanity in this room. I originally had a tall dresser that I would stand at and do my makeup, but it no longer fit in the space. I didn't think I would have enough room, but I found this vanity on sale and it totally matched the island, even though its not from Ikea. It was narrow enough to fit in the room comfortably, and had a high gloss finish that was easy to clean.
Lastly, I needed a place to store my shoes and hats. I decided to just place command hooks on the wall for my larger hats because I have a tendency to either a) ruin them in storage and b) never wear them. If I cant see something, I forget about it (thanks to the konmari method for helping me realize this was my problem). So it was super important for me to be able to have a lot of open storage solutions here!
As far as shoes go, I just stacked a bunch of these inexpensive shoe racks on top of each other. The only negative is how dusty my shoes get with this solution… however, if I don't seem them, I don't wear them! So I decided this was the best option for me.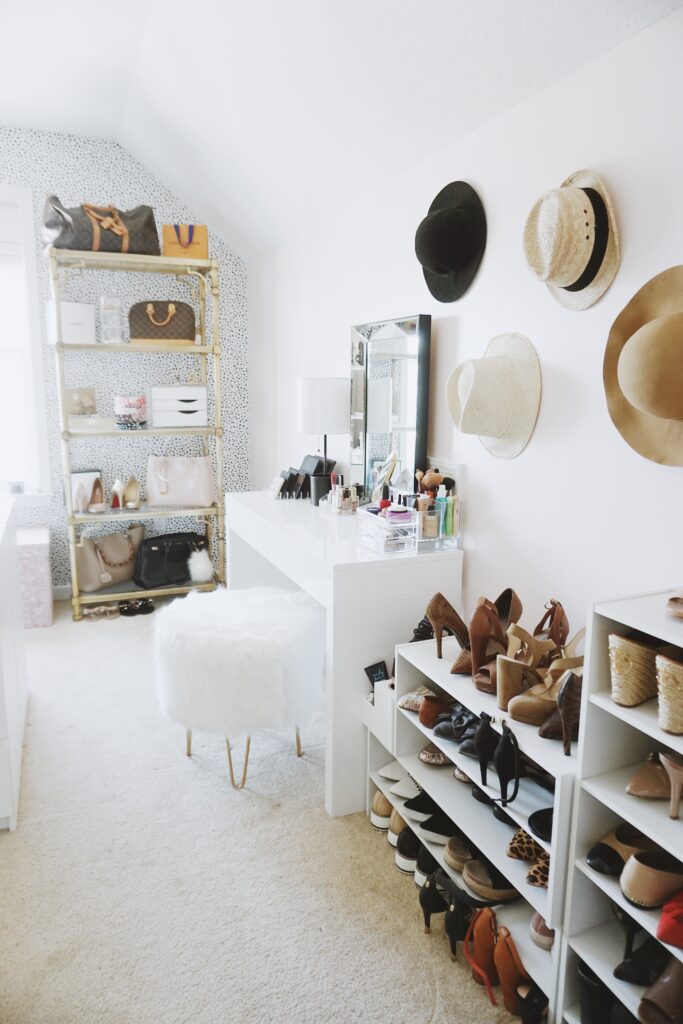 If you're still reading this, I hope you found some storage and closet inspiration in this post! Have you been inspired recently to organize your home a bit more since the trend of the konmari method? I desperately need it, so I'm taking it room by room and hope to keep sharing this with you!

As always, thank you for using my links. When you shop from my links I get a small commission at no cost to you! <3